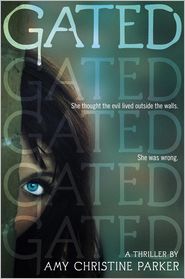 Gated
By: Amy Christine Parker
Release Date: August 27th 2013
Publisher:  Random House Childrens
Electronic copy was given to me in exchange for an honest review
Note: I don't feel that I can rate this one with stars
Summary (via Goodreads):
Do the gates keep the unchosen out or the chosen in?
In Mandrodage Meadows, life seems perfect. The members of this isolated suburban community have thrived under Pioneer, the charismatic leader who saved them from their sad, damaged lives. Lyla Hamilton and her parents are original members of the flock. They moved here following the 9/11 terrorist attacks, looking to escape the evil in the world. Now seventeen, Lyla knows certain facts are not to be questioned:
Pioneer is her leader.
Will is her Intended.
The end of the world is near.
Like Noah before him, Pioneer has been told of the imminent destruction of humanity. He says his chosen must arm themselves to fight off the unchosen people, who will surely seek refuge in the compound's underground fortress–the Silo.
Lyla loves her family and friends, but given the choice, she prefers painting to target practice. And lately she'd rather think about a certain boy outside the compound than plan for married life in the Silo with Will. But with the end of days drawing near, she will have to pick up a gun, take a side, and let everyone know where she stands.
My Thoughts:
I have never read anything about how life would be living in a cult. I thought the book description was intriguing; especially adding in the fear of end times. I couldn't help but think that reading about Lyla and her experiences would be entrancing and interesting in a psychological way. I wasn't wrong- this was an incredibly interesting read though I did not overly enjoy the experience. This had nothing to do with the story telling or writing; it all had to do with my dislike of the subject matter.
I found Gated highly disturbing and at times frustrating. I had a very difficult time getting into the head space of Lyla's parents. Their attitudes really frustrated me and I found it impossible to like them though I did empathize with them. Lyla was relatable enough and I thought she was well rounded but it wasn't enough to make the reading of Gated pleasant for me personally. Let this be a warning there was violence towards animals which I found really upsetting even though the descriptions were not graphic.
Parker included quotes from cult leaders (real and Pioneer's) at the beginning of every chapter which really created authenticity to her story. She mastered giving her reader what felt like a real glimpse into how life would be when raised in this type of environment. The pacing is slow for the majority of the book though you can feel the tension build with every page turn.
Don't be mistaken…this is not a negative review. I think this book was done very well and that a lot of people will find Gated interesting and engaging. I misjudged myself in thinking that this book would be for me.