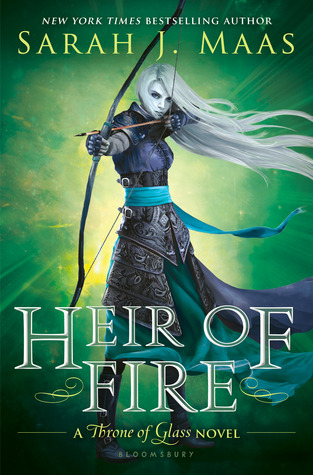 Heir of Fire
By: Sarah J Maas
Release Date: September 2nd 2014
Publisher: Bloomsbury
Format: Physical ARC
Source: Publisher
This is the third in a series so there will be some spoilers for the two prior books. If you've not started this series read my review of Throne of Glass
My Rating:

Summary:
Lost and broken, Celaena Sardothien's only thought is to avenge the savage death of her dearest friend: as the King of Adarlan's Assassin, she is bound to serve this tyrant, but he will pay for what he did. Any hope Celaena has of destroying the king lies in answers to be found in Wendlyn. Sacrificing his future, Chaol, the Captain of the King's Guard, has sent Celaena there to protect her, but her darkest demons lay in that same place. If she can overcome them, she will be Adarlan's biggest threat – and his own toughest enemy.

While Celaena learns of her true destiny, and the eyes of Erilea are on Wendlyn, a brutal and beastly force is preparing to take to the skies. Will Celaena find the strength not only to win her own battles, but to fight a war that could pit her loyalties to her own people against those she has grown to love?
My (possibly incoherent) Thoughts:
This will be another incoherent flail fest of love and adoration in place of a proper review–you've been warned. I have followed this series since Throne of Glass released, before I blogged, and fall deeper in love with each and every book.
After Crown of Midnight I had some hefty hopes for Heir of Fire to live up to and for me, this was my favorite of the series. I felt that it was strong in the character development, story and felt more like adult fantasy to me than the prior two did. I have seen some say that it was slower than the prior books and this is true, but for me that was a bonus. I wanted to bask in this world even longer and felt that each character and detail was beautifully done.
I've been a fantasy reader for all time (well since I started reading) and so the immense size of this book had me excited since I love for my fantasy to be drawn out, detailed and what others might think as sluggish. I grew up on George RR Martin so I love to read the details and see insights into all the characters. I was so happy to see extensive care taken with each individual. Not only were we treated to the characters we loved from the prior books we meet some new faces which have now become as loved as the prior cast as characters.
My favorite new character has to be Rowan; I fell head over heels in love with him from the first introduction to his character,
As if his delicately pointed ears and slightly elongated canines weren't enough to scare the living shit out of everyone in that alley, including the now- whimpering madwoman behind Celaena, a wicked- looking tattoo was etched down the left side of his harsh face, the whorls of black ink stark against his sun-kissed skin.   page 13 ARC
I knew immediately that I'd love him and I did, more and more as the story progressed. I commend Maas for creating such exquisite characters that stole my heart and left me wanting more.
Throughout the prior books and novellas we've seen whispers of the witch clans and in HoF we get to meet Manon Blackbeak. We get an in depth look into what life as a witch was like and more details about the clans. I loved these sections and Manon's brutality was mesmerizing. I can't wait to see where her story collides with Celaena's in the future books.
Celaena's journey was always painful but we get even more details into her past and let me say, my heart broke for her about fifty times. Those that love Dorian and Chaol never fear-we get to see them throughout Heir of Fire as well, though you won't get to see Celaena with them in this book.
I could ramble more about how wonderful I thought this latest installment of the Throne of Glass series was but I think it is fairly clear. I could give you more details into what's in store for you once you read this one but I think I'll leave it a surprise. I tend to love to go into a novel knowing very little about the actual story-line but I for one thought it was done beautifully.
Final Thoughts:
Really, I can't say enough about this book. I fell in love with it and with the direction Maas has taken with her series I now can say this has made it to my favorite series shelf. Okay, it already was but now it belongs there even more. I adored this book.
We are hoping to have our next Lego Cover Art up next month and we'll be featuring, you guessed it…Heir of Fire.