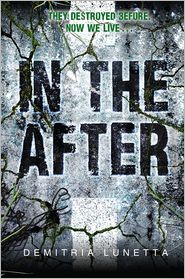 In the After
By: Demitria Lunetta
Release Date: June 25, 2013
Publisher: HarperTeen
Thank you HarperTeen for an electronic review copy in exchange for a honest review
My Rating:

Summary (via Goodreads):
They hear the most silent of footsteps. They are faster than anything you've ever seen. And They won't stop chasing you…until you are dead.
Amy is watching TV when it happens, when the world is attacked by Them. These vile creatures are rapidly devouring mankind. Most of the population is overtaken, but Amy manages to escape—and even rescue "Baby," a toddler left behind in the chaos. Marooned in Amy's house, the girls do everything they can to survive—and avoid Them at all costs.
After years of hiding, they are miraculously rescued and taken to New Hope, a colony of survivors living in a former government research compound. While at first the colony seems like a dream with plenty of food, safety, and shelter, New Hope slowly reveals that it is far from ideal. And Amy soon realizes that unless things change, she'll lose Baby—and much more.
The Story:
The beginning of In the After was absolutely amazing; it had me terrified and completely intrigued. Lunetta takes us through a classic survival tale that I felt was perfectly done. We follow from Amy's point of view, and I felt as confused and scared as she did. Lunetta did a wonderful job in creating fear and suspense. I especially loved that her monsters, referred to as 'Them,' were daylight dwellers instead of the typical nighttime terrors presented in other books. This fear of the daylight added a welcomed sense of unease.
Once Baby and Amy reach New Hope the tone of the novel changes dramatically. It becomes less a tale of survival and aliens and more a mystery. I appreciated how Lunetta interwove Amy's past and present and found I was immersed in the mystery of what was happening around her. I preferred the first half not because of the writing or story telling but because I tend to prefer survival tales in general.
The Characters:
Lunetta provides her main character parents that prepared fairly well for disaster. Between a green father and paranoid mother, Amy has a home prepped and ready to keep her safe when things go wrong. Though this helps our main character it never felt contrived or too easy. Lunetta was able to make it seem completely natural and realistic, yet it allowed our character to flourish longer and more comfortably.
I enjoyed watching Amy's growth as a person. When disaster strikes she is a typical teen and veers on spoiled. She had to adapt to an entirely different existence where daytime and noise are not safe. Her world becomes all about silence and darkness. Not only does she learn to keep herself alive she takes in a young child, Baby, and keeps her safe as well. Lunetta does an impressive job building a meaningful relationship between Amy and Baby, and does so without them speaking to one another in words but with unique sign language only they understand.
Various secondary characters are introduced and most of them are done very well. There were a few sprinkled in that I found rather grating, but they weren't supposed to be likeable. Even with the characters I disliked I was still able to understood most of their motivations.
Final Thoughts:
I really appreciated In the After and the wealth of emotions it stirred in me. I am eager to read the next in the series and anything Demitria Lunetta writes.
Look for In the After available from HarperTeen June 25, 2013
In the After Book Trailer: