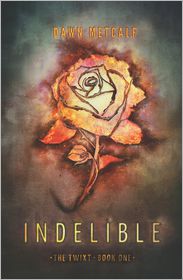 Indelible (The Twixt Book 1)
By: Dawn Metcalf
Release Date: July 30th 2013
Publisher: Harlequin Teen
Pre-Order:
Amazon

Barnes and Noble
A copy was provided by the publisher in exchange for an honest review. Thank you Harlequin Teen!
Rating:

Summary (via Goodreads):
Some things are permanent.
Indelible.
And they cannot be changed back.
Joy Malone learns this the night she sees a stranger with all-black eyes across a crowded room—right before the mystery boy tries to cut out her eye.  Instead, the wound accidentally marks her as property of Indelible Ink, and this dangerous mistake thrusts Joy into an incomprehensible world—a world of monsters at the window, glowing girls on the doorstep, and a life that will never be the same.
Now, Joy must pretend to be Ink's chosen one—his helper, his love, his something for the foreseeable future…and failure to be convincing means a painful death for them both. Swept into a world of monsters, illusion, immortal honor and revenge, Joy discovers that sometimes, there are no mistakes.
Somewhere between reality and myth lies…
THE TWIXT
The Story:
Indelible had some really beautiful and unique aspects but overall I felt the writing was uneven and I had trouble connecting with the characters or the world. Metcalf splits the story between our world and the Twixt. We follow our main character, Joy, as she experiences the remnants of her life, which isn't the same now that her parents have divorced, and the world of Twixt.
I appreciated Metcalf's descriptions and creativity in creating her fantasy/fairy world. She had a slew of interesting creatures that were very original. My favorite was the Tracker, Kestrel:
The figure, when she saw it–"her"–was easy to miss, wearing a patchy cloak of grays and browns that blended easily into the background and head completely cloaked in the hood, face unseen. As they drove closer, Joy was horrified to see that it was not the hood of the cape that hid the trackers face, but an actual hood like a hunting bird's-cracked leather, worn and weathered, stitched together with brace cords pulled tight at the neck. (page 273 of printed arc)
I could visualize Kestrel vividly and was riveted with her aspect of the story. Sadly, not all elements Metcalf presented held my interest so well. The pacing dragged for me creating a slow reading experience overall.
Since the story straddles the normal world and the Twixt I never felt fully invested in either. I could have done without a lot of the time spent in the real world though it did give me background into Joy's life.
The Characters:
Unfortunately, I didn't connect with any of the characters. I didn't dislike them, just didn't feel involved in their story nor did I really care what happened to them. This was my biggest struggle with this book. It was written in third person so perhaps that caused the disconnect for me. I didn't feel much chemistry between Ink and Joy and didn't really feel their romance was engaging.
The secondary characters in Joy's every-day life didn't stand out to me though I really enjoyed the creatures of the Twixt. I thought they were much better adapted and well rounded. Once again I think spending equal amounts of the story in each world really hampered my ability to invest in either one in a significant way.
Final Thoughts:
Though Indelible was highly creative in the creatures of the Twixt I felt that the other aspects didn't hold up as well. I will wait to see some reviews before deciding if I will read the next book in the series.