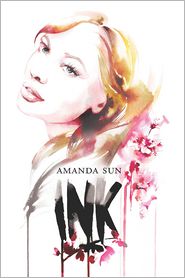 Ink (Paper Gods #1)
By: Amanda Sun
Release Date: June 25, 2013
Publisher: Harlequin Teen
An electronic copy was provided by the publisher in exchange for an honest review. Thank you Harlequin Teen!
My Rating:

The Summary (via Goodreads):
I looked down at the paper, still touching the tip of my shoe. I reached for it, flipping the page over to look.
Scrawls of ink outlined a drawing of a girl lying on a bench.
A sick feeling started to twist in my stomach, like motion sickness.
And then the girl in the drawing turned her head, and her inky eyes glared straight into mine.
On the heels of a family tragedy, the last thing Katie Greene wants to do is move halfway across the world. Stuck with her aunt in Shizuoka, Japan, Katie feels lost. Alone. She doesn't know the language, she can barely hold a pair of chopsticks, and she can't seem to get the hang of taking her shoes off whenever she enters a building.
Then there's gorgeous but aloof Tomohiro, star of the school's kendo team. How did he really get the scar on his arm? Katie isn't prepared for the answer. But when she sees the things he draws start moving, there's no denying the truth: Tomo has a connection to the ancient gods of Japan, and being near Katie is causing his abilities to spiral out of control. If the wrong people notice, they'll both be targets.
Katie never wanted to move to Japan—now she may not make it out of the country alive.
My Take:
Note: I'm using a different structure for this review rather than breaking down aspects of the story and the characters separately.
I loved the idea behind Ink. The story taking place in Japan really drew me to requesting this title along with the beautiful cover and intrigue of a young adult novel venturing into Japanese mythology. Unfortunately, Ink and I were not as compatible as I would have liked. One downside to reading and reviewing a lot of titles is that eventually you get jaded by certain story lines, character traits and dynamics.
Ink felt very familiar to me, the unique setting of Japan was not enough to stand out to me. The writing was well done, aspects of the story were interesting but I could not look past the similarities to other YA books and overall predictability. You might be asking, what seemed so overused? Well, you have a misplaced main character overcoming tragedy and uncomfortable in her new environment. Enter mysterious guy who appears to be a jerk but has so many secrets and he just might not be that bad. Guy pushes girl away (for her own good) but she pushes back because she knows there is so much more to him than what meets the eye. Insta-love ensues.
As for the positives, I will say I was impressed with the choice of setting, details to the Japanese culture (the author obviously did her research) and the ink drawings sprinkled throughout the book were stunning.
Final Thoughts:
I think many people will really enjoy this book especially if they are new to the young adult genre and haven't read many other takes on this (cliché) story line. The setting was fantastic but for someone like me, that has read a lot, the similarities and seemingly formulaic approach might take away from the overall enjoyment.
Ink (Paper Gods #1) by Amanda Sun will be available June 25, 2013