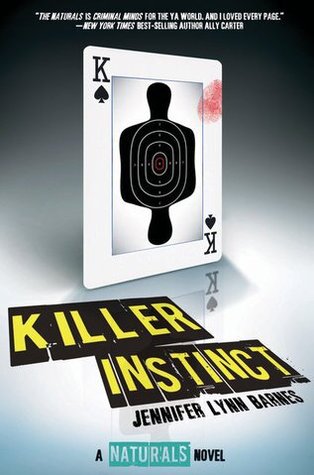 Killer Instinct
By: Jennifer Lynn Barnes
Release Date: November 4th 2014
Publisher: Disney-Hyperion
Format: Print ARC
Source: Publisher
A copy of this book was provided by the publisher in exchange for an honest review.
My Rating:

Summary:
Seventeen-year-old Cassie Hobbes has a gift for profiling people. Her talent has landed her a spot in an elite FBI program for teens with innate crime-solving abilities, and into some harrowing situations. After barely escaping a confrontation with an unbalanced killer obsessed with her mother's murder, Cassie hopes she and the rest of the team can stick to solving cold cases from a distance.
But when victims of a brutal new serial killer start turning up, the Naturals are pulled into an active case that strikes too close to home: the killer is a perfect copycat of Dean's incarcerated father—a man he'd do anything to forget. Forced deeper into a murderer's psyche than ever before, will the Naturals be able to outsmart the enigmatic killer's brutal mind games before this copycat twists them into his web for good?
My Thoughts:
I was a big fan of the first in this series, The Naturals. As with the first, Barnes has written another compelling mystery that kept me intrigued once I got back into the world and characters. Barnes' knowledge of cognitive thought and psychology was evident in her characters motivations and behavior.
I chose not to reread the first book and this caused me a tad bit of struggle in the beginning because I had trouble recalling the characters and their dynamics with one another. It didn't take long though and I was back into the story. The last book focused on Cassie and the mystery surrounding her mother's death and the journey to find the person responsible for the killings that were similar to how her mother was murdered. Killer Instinct focused this time on a copycat of Dean's father.
Dean was an easy favorite for me in both books because I can't help but be fascinated with his character. The idea that his father was a convicted serial killer was as sad as it was intriguing. In this novel we get much more depth about Dean and his father's interactions. I thought this was the most fascinating aspect of this book and am so happy that Barnes explored this element.
Though the story focused a good deal on Dean's past it was told again from Cassie's view point. Like the first book, Killer Instinct had a significant focus on a love triangle with Cassie struggling between her two interests. This element did detract from the story for me but I'm glad to see that it looks to be coming to a close sooner than later. Though the triangle wasn't my favorite aspect I could see Cassie's draw to both Dean and Michael.
Each of the secondary characters were true to their character from the first book. Michael was the welcomed humor in a story focused so much on death. It's hard not to love him solely for his witty dialog. The reader was given more insight into each of these characters and I felt that as the series continues we'll continue to get to know them even more.
As with the first book we get small chapters told from the killer's point of view. I love that these are included since we get to witness the psychological make-up of the killer. It helps to give hints into who it is and kept me invested and intrigued in the mystery.
Final Thoughts:
Killer Instinct was a fast paced mystery that was unpredictable and intriguing. I love Barnes' use of profiling basics and her ability to keep me guessing who the killer might be. Though there was a love triangle I felt that the story was done well enough to cancel out that aspect and keep me loving this series.