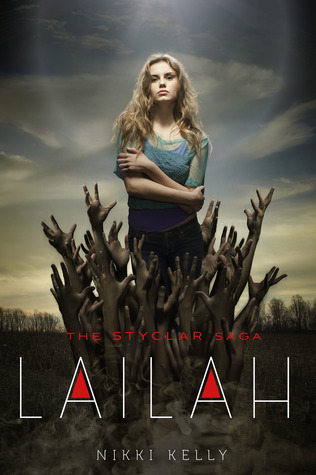 Lailah (The Styclar Saga #1)
By: Nikki Kelly
Release Date: October 7th 2014
Publisher: Feiwel and Friends
Format: Print ARC
Source: Publisher
A copy of this book was provided to me by the publisher in exchange for an honest review.
My Rating:

Summary:
The girl knows she's different. She doesn't age. She has no family. She has visions of a past life, but no clear clues as to what she is, or where she comes from. But there is a face in her dreams – a light that breaks through the darkness. She knows his name is Gabriel.

On her way home from work, the girl encounters an injured stranger whose name is Jonah. Soon, she will understand that Jonah belongs to a generation of Vampires that serve even darker forces. Jonah and the few like him, are fighting with help from an unlikely ally – a rogue Angel, named Gabriel.
In the crossfire between good and evil, love and hate, and life and death, the girl learns her name: Lailah. But when the lines between black and white begin to blur, where in the spectrum will she find her place? And with whom?
Gabriel and Jonah both want to protect her. But Lailah will have to fight her own battle to find out who she truly is.
My Thoughts:
This is such a difficult review to write. I went into this fully knowing it was going to be a paranormal romance and I was excited for vampires and angels and positive I'd love this book. Well, the sad truth is…I didn't love it. There was something about the writing that kept me coming back to read but the overall story and characters fell a bit flat for me.
There were aspects of the story that I found to be interesting and like I said above something ab0ut the story kept me coming back for more. I enjoyed that Kelly combined angels with vampires and also created her own mythology to explain them. I was able to visualize the locations and characters and I felt that the action scenes were done rather well.
One thing that irked me was I couldn't help but see some similarities with another well known vampire book…you might know it…Twilight.  Don't get me wrong, I don't cry Twilight with every vampire book and I know that mythologies cross, etc. The aspects that seemed familiar was that the group of vampires were reformed and living together as a family. They also happened to be rich (ok, I'll let that slide since in almost every book vamps are well to do). There was also a bit of shimmering/glimmering in the moonlight and there was a scene where Lailah hitches a ride on a vamp's back and runs through the woods. How could I not see Twilight there?
The love triangle! Ugh, this one was bad. I couldn't get behind either relationship. I did prefer one of the guys over the other but I still didn't like him with Lailah. She mistreats people and uses one against the other when she gets upset about something.
In general the character descriptions were clichéd. Phrases such as, "cascading waves of hair" "pearly white teeth" were used to describe them which did make it easy to visualize everyone but I was sad to only have a 'beautiful' cast of characters that were all perfect.
Lailah, our main character, I wasn't keen on her at all. I never connected and found her to be annoying more often than not. She threw a lot of fits and acted out of anger by running away or endangering other people. I felt constantly annoyed with her and wanted to throttle her at times. The MC also has low self esteem but for no reason. She's beautiful and everyone has pet names for her like: love and beautiful. Just sort of grating and felt very done before.
Final Thoughts:
Though I was disappointed by Lailah I could see the appeal and felt the urge to read it because it was entertaining. I had moments of rolling my eyes and felt distracted by the similarities I saw with Twilight. I think that if I could have connected with Lailah and shipped one of her relationships I'd have been a much bigger fan of the books. Sadly, that was not the case. Will I read the next book? I'm really not sure.