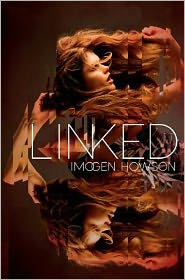 Linked
By: Imogen Howson
Release Date: June 11, 2013
Publisher: Simon & Schuster Books For Young Readers
Electronic copy was provided by the publisher in exchange for an honest review. Thank you!
My Rating:

Summary (via Goodreads):
Elissa used to have it all: looks, popularity, and a bright future. But for the last three years, she's been struggling with terrifying visions, phantom pains, and mysterious bruises that appear out of nowhere.
Finally, she's promised a cure: minor surgery to burn out the overactive area of her brain. But on the eve of the procedure, she discovers the shocking truth behind her hallucinations: she's been seeing the world through another girl's eyes.
Elissa follows her visions, and finds a battered, broken girl on the run. A girl—Lin—who looks exactly like Elissa, down to the matching bruises. The twin sister she never knew existed.
Now, Elissa and Lin are on the run from a government who will stop at nothing to reclaim Lin and protect the dangerous secrets she could expose—secrets that would shake the very foundation of their world.
Riveting, thought-provoking and utterly compelling, Linked will make you question what it really means to be human.
The Story:
Howson's idea behind Linked was very interesting and had a lot of potential to create an exceptional book.  It started off enjoyable and I was excited to be diving into the story. I wanted to know about Elissa's visions, nightmares and what was causing her physical harm. I wanted to know about her mysterious twin and why some entity was experimenting on her. What was the purpose behind all this? Sadly, after Linked took off it stalled out. The ideas and descriptions (though often too wordy for me and verging on info dump) were present though none of it was able to consistently keep my attention.
A lot of our character's time was spent on running, running, and then more running. I felt like a few areas could have successfully been cut out and would have moved things along better for me. I found myself skimming over areas and even with the sections of action the pacing felt slow to me. I can't pinpoint why because the writing was well crafted, the ideas strong. I knew as I read that the author had a very vivid world developed and a story that was well thought out but it never just grabbed hold of me.
The Characters:
The beginning had a lot of characters introduced but most of them weren't around later in the book so they felt very background. I didn't get their motivations but I have a feeling that some might make appearances later in other books.
I never connected or related to the main character Elissa in any substantial way. Her relationship with her twin sister was grating at times due to the bickering (though I have a sister so I can't say that's not realistic), but it did not make for an interesting read for me.  Elissa's twin, Lin, was bland and nothing happening caused me to worry about her survival. The worst thing about this entire book was not caring. I never felt invested, not in Elissa and Lin's relationship or her relationship with her love interest.
Final Thoughts:
Overall, my biggest complaint about Linked was its slow pacing and my lack of interest in any of the characters. I couldn't even muster the energy to hate any of them. Howson writes well and I would find myself latching onto some of her writing; acknowledging the beauty of her words but it just wasn't enough to hold my interest. I don't think I'll be reading the following books in the series.