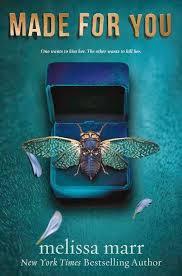 Made For You
By: Melissa Marr
Release Date: September 16th 2014
Publisher: HarperCollins
Source: Finished Copy
Format: Publisher
A copy of this book was provided to me by the publisher in exchange for an honest review.
My Rating:

Summary:
When Eva Tilling wakes up in the hospital, she's confused—who in her sleepy little North Carolina town could have hit her with their car? And why? But before she can consider the question, she finds that she's awoken with a strange new skill: the ability to foresee people's deaths when they touch her. While she is recovering from the hit-and-run, Nate, an old flame, reappears, and the two must traverse their rocky past as they figure out how to use Eva's power to keep her friends—and themselves—alive. But while Eva and Nate grow closer, the killer grows increasingly frantic in his attempt to get to Eva.
My Thoughts:
I've been reading more and more young adult thrillers lately and have found that generally they tend to be a tad predictable even if enjoyable. Melissa Marr's Made for You kept me guessing and was a very entertaining read. I found the writing to be gripping and the story fast paced.
My biggest issue with this book was that the build up for the big reveal was great but when things were finally presented it was underwhelming for me. Possibly, I felt like this because I never really connected with the characters on a deep level.
The story alternates between three point of views, one being the killers. If done well, seeing the world from the killer's point of view adds so much to the story. Marr did a great job in showing how sick the killer, called Judge, was. I looked forward to his disturbing insights. And seeing him single out his victims kept me flipping the pages.
There was a romance in this book between Eva and her old friend from childhood Nate. I began the story really disliking Nate's character but as the story progressed Marr was able to change my mind. I enjoyed reading these two's interactions though I can't say I was ever completely immersed in their lives.
An aspect of this book I really enjoyed was that Eva woke from her injuries with ability to see people's deaths by touching them. This added a very creative angle to what could have been an otherwise typical thriller. I also loved connecting what Eva saw with where the story was going. This enhanced the tension and kept me flipping the pages. So, as you can see, I was really interested in the storyline but I felt detached a bit from the characters.
Final Thoughts:
Overall Melissa Marr has written another intriguing story that was unpredictable, fast paced and featured a really creepy killer. Though the build up was strong I felt that the climax of the book was overall a let down and I had trouble connecting with the characters.