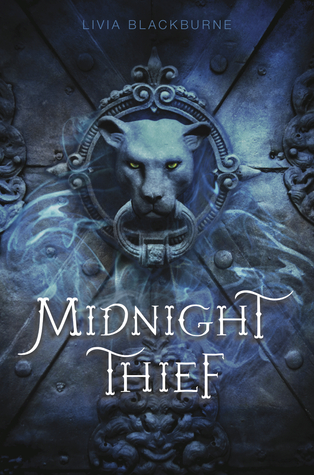 Midnight Thief
By: Livia Blackburne
Release Date: July 8th 2014
Publisher: Disney-Hyperion
Format: Physical ARC
Source: Publisher
A copy of this book was provided to me by the publisher in exchange for an honest review.
My Rating:

Summary:
Growing up on Forge's streets has taught Kyra how to stretch a coin. And when that's not enough, her uncanny ability to scale walls and bypass guards helps her take what she needs.

But when the leader of the Assassins Guild offers Kyra a lucrative job, she hesitates. She knows how to get by on her own, and she's not sure she wants to play by his rules. But he's persistent—and darkly attractive—and Kyra can't quite resist his pull.
Tristam of Brancel is a young Palace knight on a mission. After his best friend is brutally murdered by Demon Riders, a clan of vicious warriors who ride bloodthirsty wildcats, Tristam vows to take them down. But as his investigation deepens, he finds his efforts thwarted by a talented thief, one who sneaks past Palace defenses with uncanny ease.
When a fateful raid throws Kyra and Tristam together, the two enemies realize that their best chance at survival—and vengeance—might be to join forces. And as their loyalties are tested to the breaking point, they learn a startling secret about Kyra's past that threatens to reshape both their lives.
My Thoughts:
Blackburne's writing was beautifully done and had me invested in the characters and the plot exceptionally fast. I had read her short story, Poison Dance, which focused on one of the characters with a large role in Midnight Thief. Having read the novella first I had some expectations to what this book would be like but I was surprised by the twists and enjoyed it even more.  I think you could read them in either order. I do feel that Midnight Thief was stronger all together but the insights into the characters were wonderful to have.
I loved the ease in which she dropped me into her fantasy setting and how I could visualize it and the characters clearly. Her writing was precise, fast paced and capable of creating a rich world with characters that were multidimensional. You can see from the summary that this story follows Kyra, a thief, who is being courted to join the Assassins Guild. Anytime a story mentions assassins or thieves I instantly add it to my to read wish-list. This book was no different though Kyra was not an assassin and had no desire to take lives.
Though I would classify Midnight Thief as a fantasy novel it didn't have some of the typical fantasy tropes. I felt this book read easier because of the lack of expansive lands or plethora of characters. Regardless, this book has some beautifully crafted fantasy elements that I was surprised to see included.
As for the characters, we follow Kyra who was easy to relate to and empathize with. I loved the sections where she snuck around and utilized her thieving skills. As the novel progressed we saw her develop and I can't wait to see what will  happen with her story in the next book.  The assassins come in with the side characters which were less defined but if you read Poison Dance you'll get so much more depth it won't matter as much. I connected to Kyra but I never did connect on any real level with any of the other characters. I would like to see more backstory to Tristam because I feel that he has a lot of potential.
The romance in Midnight Thief left some to be desired. I never shipped anyone though I hope that in the next book I can get invested more. Those concerned with a love triangle–there was just barely a hint of one but it was dealt with early on and I'd not classify this book as having one.
Final Thoughts:
I had some high hopes for Midnight Thief and for the most part this book lived up to them. I felt that the pacing was steady and enjoyed learning about the world and the main character, Kyra.