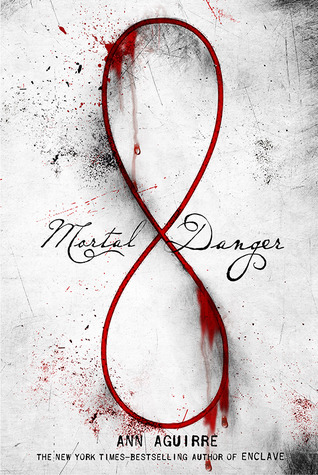 Mortal Danger
By: Ann Aguirre
Release Date: August 5th 2014
Publisher: Feiwel & Friends
Source: Publisher
Format: Print ARC
A copy of this book was given to me by the publisher in exchange for an honest review.
My Rating:

Summary:
Revenge is a dish best served cold.
Edie Kramer has a score to settle with the beautiful people at Blackbriar Academy. Their cruelty drove her to the brink of despair, and four months ago, she couldn't imagine being strong enough to face her senior year. But thanks to a Faustian compact with the enigmatic Kian, she has the power to make the bullies pay. She's not supposed to think about Kian once the deal is done, but devastating pain burns behind his unearthly beauty, and he's impossible to forget.

In one short summer, her entire life changes, and she sweeps through Blackbriar, prepped to take the beautiful people down from the inside. A whisper here, a look there, and suddenly… bad things are happening. It's a heady rush, seeing her tormentors get what they deserve, but things that seem too good to be true usually are, and soon, the pranks and payback turns from delicious to deadly. Edie is alone in a world teeming with secrets and fiends lurking in the shadows. In this murky morass of devil's bargains, she isn't sure who—or what–she can trust. Not even her own mind…
My Thoughts:
I've been a fan of Ann Aguirre since I read her Razorland series so was very excited to obtain a copy of Mortal Danger. I found this book to be fairly fast paced and overall an enjoyable and creepy read.
I adored the start of this book and was as intrigued as I was saddened by the despair that our main character, Edie, felt at the hands of bullies at her school. I felt instantly empathetic towards her and wanted to see her find some sort of happiness. It was easy to get wrapped up in her story and be swept up in Aguirre's writing.
As the book progressed I was a bit less enthused when the story started to become disjointed because of how many elements (paranormal, bullying and a love story) all converged into this one story. I wanted to see less romance and more of the other things. I felt that with the relationship being so prominent it had the feel of insta-love and took away from my overall enjoyment.
That aside the subject of bullying was heartbreaking and I felt so sorry for Edie. As we find out more and more about the things she endured at school it was more and more difficult to not be completely heartbroken for her. I have never been one for revenge or getting back at people but I was able to sympathize and even understand where Edie was coming from and her desire to make them pay.
Edie as a character had a lot of traits that I really liked, she was independent and smart. It was very easy to root for her though I had a few issues with her character as the book progressed. I can't tell you how without spoilers so beware that I'm about to reveal a plot point…skip ahead if you don't want to know.
SPOILER:
Edie was able to be granted three wishes from Kian and her first one was beauty. She chose this not for her vanity but so that she could get in with the elite in her school to get back at them for all the horrible things they did to her. I found that she adjusted rather quickly to her drastic change with not only feeling fairly confident but also knowing about make-up and other beauty things that she had zero interest in prior to her change. It's not a really big deal but it sort of nagged at me as I read.
END SPOILER
Kian was very mysterious and had my attention in the beginning. I was confident I'd be shipping him and Edie and looked forward to learning the details of his past. But, things with Kian felt rushed and I wanted the details of his story and his affections to be held back some. I would have loved for it to have been drawn out and had a much slower burn.
As I mentioned above Mortal Danger has some wonderful horror and paranormal elements. I loved these aspects and felt that Aguirre did a wonderful job in making me creeped out as I read. I look forward to the next book because I feel that these will be even more abundant as the story progresses (I hope so anyway).
Final Thoughts:
I felt that Mortal Danger was overall an enjoyable read that had some beautifully creepy elements that were tampered down by the rushed romantic bits. I felt that the story lost its way here and there and things felt a bit unraveled the further I got but Aguirre managed to pull things together for a pretty wonderful finish that left me wanting to read the next book.