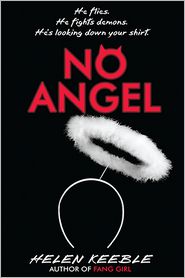 No Angel
By: Helen Keeble
Release Date: October 8th
Publisher: HarperTeen
Purchase:
Amazon

Barnes and Noble
A copy was given to me by the publisher in exchange for an honest review.
My Rating:

Summary:
Rafael Angelos just got handed the greatest gift any teenage boy could ever dream of. Upon arriving at his new boarding school for senior year, he discovered that he is the ONLY male student. But what should have been a godsend isn't exactly heaven on Earth.
Raffi's about to learn that St. Mary's is actually a hub for demons-and that he was summoned to the school by someone expecting him to save the day. Raffi knows he's no angel-but it's pretty hard to deny that there's some higher plan at work when he wakes up one morning to discover a glowing circle around his head.
Helen Keeble's debut novel, Fang Girl, has been praised for its pitch-perfect teen voice, and VOYA called it "refreshing and reminiscent of Louise Rennison's Confessions of Georgia Nicolson series." No Angel brings you angels and demons like you've never seen them-complete with the wry humor of Vladimir Tod, sinfully irreverent romance, and some hilariously demonic teenage dilemmas.
My Thoughts:
No Angel is not a book that I would typically pick up and read because I tend to shy away from books that attempt humor. I was sent a review copy randomly by Harper Teen and was actually pleasantly surprised with how enjoyable this was. Keeble's writing is not overly serious; this book is pure fun and was a quick and easy read.
I really enjoyed that No Angel moved at a fast pace and was told from a male point of view. I felt Keeble did a great job in giving Raffi a distinctive and masculine tone. He was incredibly likeable and some of his lines were very, very funny. My favorite parts were his development of his angel gifts. I felt the writing was very descriptive and did a wonderful job with the physical comedy of the situations Raffi found himself in.
The secondary cast was written well though I was never overly connected to them or really understood all their motivations. Some of the characters felt disjointed in their development, though it didn't really detract from my overall enjoyment.
Though aspects were done beautifully my biggest issue with the main story arc was its predictability. The twists were never surprising to me and I never felt overly engaged in the outcome.
Final Thoughts:
No Angel was an entertaining book that was a bit of a fluff read. I would read another Helen Keeble book without a doubt because her writing was easy, fun and a humorous take on paranormal young adult fiction.