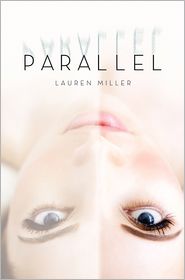 Parallel
By: Lauren Miller
Release Date: May 14, 2013
Publisher: HarperTeen
My Rating:

Summary (via Goodreads):
Abby Barnes had a plan. The Plan. She'd go to Northwestern, major in journalism, and land a job at a national newspaper, all before she turned twenty-two. But one tiny choice—taking a drama class her senior year of high school—changed all that. Now, on the eve of her eighteenth birthday, Abby is stuck on a Hollywood movie set, miles from where she wants to be, wishing she could rewind her life. The next morning, she's in a dorm room at Yale, with no memory of how she got there. Overnight, it's as if her past has been rewritten.
With the help of Caitlin, her science-savvy BFF, Abby discovers that this new reality is the result of a cosmic collision of parallel universes that has Abby living an alternate version of her life. And not only that: Abby's life changes every time her parallel self makes a new choice. Meanwhile, her parallel is living out Abby's senior year of high school and falling for someone Abby's never even met.
As she struggles to navigate her ever-shifting existence, forced to live out the consequences of a path she didn't choose, Abby must let go of the Plan and learn to focus on the present, without losing sight of who she is, the boy who might just be her soul mate, and the destiny that's finally within reach.
The Story:
There is something inherently interesting about the prospect of two alternate versions of the same person's life, divided only by a dimension. A simple decision could affect your life drastically. The old Gwyneth Paltrow moivie Sliding Doors was the first I'd seen that presented this idea in an easy to digest manner. This year, there seem to be an influx of young adult novels centering around this theme. Parallel does a really good job in some respects but over all I was sort of let down.
Miller created a well written story that was obviously thought out, but something was missing for me. I was engaged for the first third of the book, but the further I read the less interested I became. I found myself feeling bogged down in the romance, I wanted more science fiction, less love triangle. The science fiction aspects that made it into the story were done well, I really loved Dr. Mann's character and explanations as to what Abby was going through. And I loved that every time Abby woke she never knew what choices her alternate self would make resulting in her present day always being a mystery. I personally still have nightmares about college where I don't know what class I'm supposed to be in or where to go. This novel really took my nightmares and made them real. I have to admit I got anxiety reading about Abby's life/lives. In this, Miller succeeded in creating an interesting book.
The Characters:
The characters really make the book to me, and in Parallel I wasn't blown away with any of them. Abby was likeable enough for the most part. Her best friend, Caitlin, was beautiful, brilliant and socially elegant,
My best friend is, for sure, a raging geek–at least when it comes to science. her inner nerd just happens to live in a supermodel's body.
This perfection was a bit over the top to me and her expertise in science seemed too convenient. How likely would it be for the one person aware of the entangled dimensions to have a best friend that just so happens to be a science wiz with contacts in fringe science? I understand Caitlin having this knowledge was a great way for the author to explain what was happening but as the reader it felt too contrived to me.
Now on to the love interests, I was not pleased to see yet another love triangle though this one was a bit different since Abby had two parallel lives. Saying much more than that veers into spoiler territory, but I wasn't blown away with either guy and one aspect had an ick factor for me.
Final Thoughts:
Parallel wasn't mind blowing or a must read, though it was an entertaining book and I do think a lot of people will enjoy it.
Advanced copy was acquired by HarperTeen in exchange for a honest review.
Parallel Book Trailer: