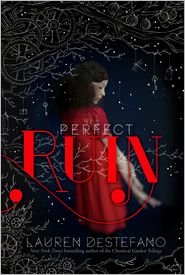 Perfect Ruin (The Internment Chronicles #1)
By: Lauren DeStefano
Release Date: October 1st 2013
Publisher: Simon & Schuster Books for Young Readers
Purchase:
Amazon

Barnes and Noble
A copy was provided by the publisher in exchange for an honest review.
My Rating:

Summary (via Goodreads):
On Internment, the floating island in the clouds where 16-year-old Morgan Stockhour lives, getting too close to the edge can lead to madness. Even though Morgan's older brother, Lex, was a Jumper, Morgan vows never to end up like him. She tries her best not to mind that her life is orderly and boring, and if she ever wonders about the ground, and why it is forbidden, she takes solace in best friend Pen and her betrothed, Basil.
Then a murder, the first in a generation, rocks the city. With whispers swirling and fear on the wind, Morgan can no longer stop herself from investigating, especially when she meets Judas. He is the boy being blamed for the murder — betrothed to the victim — but Morgan is convinced of his innocence. Secrets lay at the heart of Internment, but nothing can prepare Morgan for what she will find — or who she will lose.
The Story:
I haven't read DeStefano's Wither series so I can't compare the pacing or story elements. Perfect Ruin had a slow (but not boring) pace that was easy to read. DeStefano took time to build her world and her main character, Morgan. I felt that Internment was beautifully described and I could visualize the buildings, people and feel of life on the floating island and the claustrophobia of spending your entire life in such a small space. I really enjoyed the writing and how the story flowed slowly though there was the underlining feel of intensity.
I was originally drawn to this book because of the cover but after reading about the city/island floating in the clouds I was hooked. I was intrigued with all the questions–why an island in the sky? How were the people chosen to live there? What is below? Why is looking over the edge forbidden? I will say that we aren't given absolute clarification in Perfect Ruin. DeStefano edges around these answers only giving the reader the information that Morgan knows.
I feel like as the series progresses more of the questions will be addressed but some readers might be disappointed not to know these answers with the first installment. By the end of the book I had a greater understanding of Internment and its people though I left the book still wondering about many things. For me, this was enough. I didn't feel disappointment at not getting clear cut answers.
The Characters:
I really enjoyed Morgan, her best friend, her brother and sister in law. I felt that all were well fleshed out and had much deeper stories that I hope to see in later books. As a main character, Morgan is typical of a young adult heroine. She is clever, loyal and curious to a fault. I did wonder why she was only seeking answers with the latest mystery and not after her brother's experience with the edge.
I had the most difficult time really connecting with Basil. I couldn't find much depth in his character (yet) and never felt real chemistry between him and Morgan. I liked his actions and what he stood for but I never felt anything deeper about him. He felt rather flat to me overall.
On Internment people are betrothed at a young age and are aware of their future mate. I don't know if it was because Morgan and Basil were already accepting their futures together but I wasn't really feeling their romance. Pen, Morgan's best friend, was far more fun and I loved her dialog and her relationship with her betrothed. Honestly, I felt that all the secondary characters had more passionate relationships than Morgan and Basil.
Judas' story brings about many of the mysteries and questions for Morgan. His character never felt flat to me and I was easily swept away in his life. I did fear that he would become a love interest creating the dreaded love triangle but so far it didn't go in that direction.
Final Thoughts:
Perfect Ruin was an entertaining and easy read though many questions remained after finishing the book. I feel that the setup for the sequel will lead to a series that improves with each book.