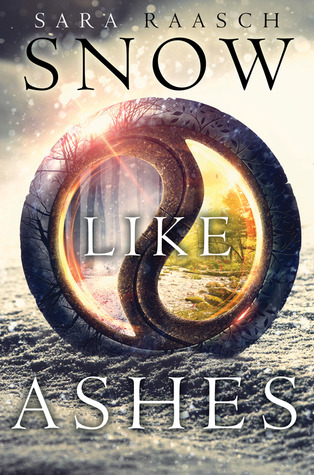 Snow Like Ashes
By: Sara Raasch
Release Date: October 14th 2014
Publisher: Balzer + Bray
Source: E-ARC, Print ARC
An electronic copy was provided by the publisher in exchange for an honest review.
My Rating:

Summary:
A heartbroken girl. A fierce warrior. A hero in the making.
Sixteen years ago the Kingdom of Winter was conquered and its citizens enslaved, leaving them without magic or a monarch. Now, the Winterians' only hope for freedom is the eight survivors who managed to escape, and who have been waiting for the opportunity to steal back Winter's magic and rebuild the kingdom ever since.

Orphaned as an infant during Winter's defeat, Meira has lived her whole life as a refugee, raised by the Winterians' general, Sir. Training to be a warrior—and desperately in love with her best friend, and future king, Mather — she would do anything to help her kingdom rise to power again.
So when scouts discover the location of the ancient locket that can restore Winter's magic, Meira decides to go after it herself. Finally, she's scaling towers, fighting enemy soldiers, and serving her kingdom just as she's always dreamed she would. But the mission doesn't go as planned, and Meira soon finds herself thrust into a world of evil magic and dangerous politics – and ultimately comes to realize that her destiny is not, never has been, her own.
My Thoughts:
The world was complex, I was reading the e-arc and so didn't have a good map to really keep me straight on where each kingdom was. Being able to reference a map would have helped clear up some of my confusion on the different kingdoms and where they all were. Raasch's idea of separating them and their people by seasons was very creative and I loved the descriptions of each place. I did find some of the explanations a bit convoluted at times and there were minor instances of info dump. None of this was prevalent enough to detract from my enjoyment though. It felt like a complex world that I will enjoy learning about through-out the series.
Note– I later received the print ARC and I love that there was a map! I almost wish I'd had the patience to wait for the print version since I might have been able to connect to the world and characters even more.
Raasch created likeable characters and I very much enjoyed watching from Meira's point of view. I felt that Mather and Sir were both very well developed and I found it easy to like them though I didn't agree with their actions at all times. As the story progressed I did feel that more attention was spent on the story than the characters so the book began to feel more plot driven.
A love triangle was some-what present and it could possibly continue into the next books. One of the characters we are introduced to was Theron. He was of noble birth and I felt that he was a rather stiff character and felt very cardboard cutout to me. This made me incapable of connecting to him on any level. His attributes were great on paper but I had zero feelings for him and never felt the chemistry between him and Meira. I couldn't shake that he felt too perfect and I wanted him to have some more depth and be less 'good'. I enjoyed Mather because he was a much more complex character. I felt that he was pulled in many directions and this made him likeable and real. Theron felt like the creation of the 'perfect' love interest. He was understanding, handsome and brave. None of this appealed to me especially in comparison to the author's more well rounded characters.
Final Thoughts:
I felt that the overall story was predictable but fun and I was entertained by it. I am very interested to see where the story goes in the next book and though I had some issues with Theron this book was still capable of causing a book hangover.  It was easy to become swept away with Meira's journey and it was able to instill some powerful emotions for me.