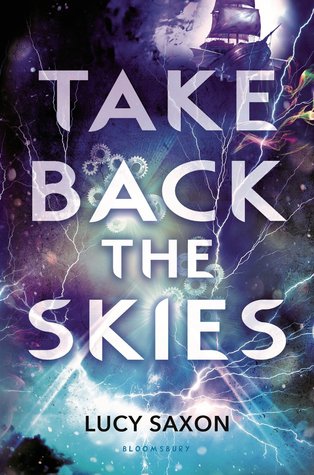 Take Back the Skies
By: Lucy Saxon
Release Date: June 3rd 2014
Publisher: Bloomsbury USA Childrens
Source: ARC
A copy was provided to me in exchange for an honest review. Thank you Bloomsbury!
My Rating:

Summary:
Catherine Hunter is the daughter of a senior government official on the island of Anglya. She's one of the privileged – she has luxurious clothes, plenty to eat, and is protected from the Collections which have ravaged families throughout the land. But Catherine longs to escape the confines of her life, before her dad can marry her off to a government brat and trap her forever.

So Catherine becomes Cat, pretends to be a kid escaping the Collections, and stows away on the skyship Stormdancer. As they leave Anglya behind and brave the storms that fill the skies around the islands of Tellus, Cat's world becomes more turbulent than she could ever have imagined, and dangerous secrets unravel her old life once and for all …
My Thoughts:
I was incredibility drawn to the cover, title and summary of Take Back the Skies. Everything about it seemed right up my alley and the fact that a teen writer was behind it made me very excited to dive into this science fiction book. I was pleased with how Saxon started her story. She introduced us to a strong-willed young teen (14-which was a younger mc than I'm used to). I found her to be engaging and enjoyed reading about the world she was in. I had some confusion on when and where this story took place and never felt that Saxon was able to really draw a clear picture of her world. A lot of her descriptions felt muddled and it was very difficult to visualize any of the setting.
As this story progressed the writing became sloppy in my opinion. The tightly woven storyline started to detour and the characters became a lot more annoying. The love interest, Fox, was the worst of the bunch. He was hard at times to tolerate because of his neck breaking shifts in personality. I never could grasp why people put up with it to be honest. Him and Cat's interactions were annoying at best. I wanted to love Fox because he was surly and a red head but it was not meant to be.
As for the story in Take Back the Skies there were some really stellar aspects. I loved the idea behind the Stormdancer and I wanted to know a LOT more about these forceful storms. Why were they there? What caused them? None of those details were really addressed though they did provide a cool backdrop to some of the scenes. I enjoyed Cat's time on the ship the most and wished I had a clearer visual of how it looked. The crew was also a great addition because I felt that for secondary characters they were well addressed. I also enjoyed some of the more disturbing aspects of the story that I can't reveal because of spoilers. The overall atmosphere and story had a lot of potential.
Parts to the story that didn't work for me were how easily the crew of adults were so willing to give not only a majority of the planning but also the actual duties to the youngest members on the ship. Cat and Fox were responsible for the most vital and dangerous aspects of their mission. It seemed a tad unbelievable to me. Also, the ease in which they were able to break into a government building was laughable. Nothing seemed overly difficult or challenging. Also, just because Cat is dressed as a boy with short hair would that make her virtually unrecognizable?
Eavesdropping on important conversations plays a huge role in this story. Cat was able to shadow various people and hear their entire conversations in exact detail.  I don't know if it was because the setting wasn't clearly provided or if it was just written to where she could easily walk behind people and them not hear or see her. All of this added up to a less than thrilling build-up.
Another problem I had with TBtS was the unimagined dialog. Not only was their language inconsistent (sometimes speaking more present day but throwing in older terms and phrases) the villain was one of the worst I've encountered in a long while. I was sad that Saxon created an antagonist that was completely one sided and had no depth what so ever.
Final Thoughts:
Though Take Back the Skies was full of aspects I couldn't get over as a reader I could see that Saxon has potential and I think her story idea was really great though not executed in a way I was able to really connect with. I will be interested to see where this young writer heads and what her future books will be like.