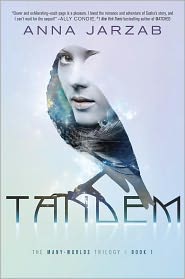 Tandem (Many Worlds Trilogy #1)
By: Anna Jarzab
Release Date: October 8th 2013
Publisher: Delacorte Books for Young Readers
Purchase:
Amazon

Barnes and Noble
My Rating:

An electronic copy was provided by the publisher for an honest review.
Summary:
Everything repeats.
You. Your best friend. Every person you know.
Many worlds. Many lives–infinite possibilities.
Welcome to the multiverse.
Sixteen-year-old Sasha Lawson has only ever known one small, ordinary life. When she was young, she loved her grandfather's stories of parallel worlds inhabited by girls who looked like her but led totally different lives. Sasha never believed such worlds were real–until now, when she finds herself thrust into one against her will.
To prevent imminent war, Sasha must slip into the life of an alternate version of herself, a princess who has vanished on the eve of her arranged marriage. If Sasha succeeds in fooling everyone, she will be returned home; if she fails, she'll be trapped in another girl's life forever. As time runs out, Sasha finds herself torn between two worlds, two lives, and two young men vying for her love–one who knows her secret, and one who thinks she's someone she's not.
The first book in the Many-Worlds Trilogy, Tandem is a riveting saga of love and betrayal set in parallel universes in which nothing–and no one–is what it seems.
The Story:
I have read a few multi-universe books this year and have honestly not been overly impressed with the majority of them. I felt that I would love this genre but for some reason it's left me unsatisfied. Tandem manages to be different than the other books I've read mostly due to the other universe being rather varied from this one.
The other universe Sasha gets thrown into had some nice fantasy aspects including castles, queens and kings. I actually really enjoyed this aspect and wasn't expecting it. This addition gave the book a light fantasy feel rather than science fiction to me. It helped distinguish the two universes from each other and gave the main character a lot of learning to do.
Although I enjoyed the distinction between the universes: I wish I had felt stronger than a general sense of 'meh' about Tandem. I loved the cover and wanted to be immersed and gripped by the story but something was missing. I'm not entirely sure which element that was. The story wasn't overly predictable though I didn't feel that keen an interest to find out what would happen. For some reason I didn't feel the tension and though some chapters were titled as a countdown until the big 'thing' was going to happen I didn't feel any stress.
The Characters:
Perhaps, my biggest disconnect was with the characters. I wanted to get behind them and really feel what they were going through but that never really happened. I honestly wasn't overly concerned with if Sasha made it back to her old life. I sort of kept thinking, why not stay? Having that question really removed any stress for things to be set right.
The romance was rather light and was obvious with who and when it would occur. It wasn't done poorly but wasn't incredible either. I was very pleased there wasn't a love triangle because it could have easily gone that direction.
I'll say that the characters were pretty one dimensional in their good vs bad. I never felt that any of them were conflicted or very deep. Everything had a very 'on the surface' feel to me.
Final Thoughts:
As you can see I felt very meh about Tandem, its plot and characters. There were aspects that I thought were on a really interesting path but it never seemed to really get there for me. I wanted a bit more depth and internal conflict with the characters and for someone to surprise me with their actions.