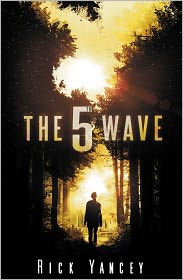 The 5th Wave
By: Rick Yancey
Release Date: May 7, 2013
Publisher: Penguin Group
Source: Purchased
My Rating:

Summary (via Goodreads):
After the 1st wave, only darkness remains. After the 2nd, only the lucky escape. And after the 3rd, only the unlucky survive. After the 4th wave, only one rule applies: trust no one.
Now, it's the dawn of the 5th wave, and on a lonely stretch of highway, Cassie runs from Them. The beings who only look human, who roam the countryside killing anyone they see. Who have scattered Earth's last survivors. To stay alone is to stay alive, Cassie believes, until she meets Evan Walker. Beguiling and mysterious, Evan Walker may be Cassie's only hope for rescuing her brother—or even saving herself. But Cassie must choose: between trust and despair, between defiance and surrender, between life and death. To give up or to get up.
The Story:
The 5th Wave has been seriously hyped, almost to its detriment. I've seen boasts that this is the best YA book of 2013 and that it is Ender's Game meets The Passage. I've not read The Passage but it's on my TBR list now, so there goes some great reverse marketing. This book was good. The story was engaging and I was interested. The beginning had me terrified. I had already cried and been totally freaked out maybe 50 pages in. The beginning had the feel of Susan Ee's Angelfall to me; kick-ass heroine fighting against all the impossible obstacles stacked against her. I thought to myself that this was what an alien book should be; what I had always wanted to read and experience.
Then things changed, the aura shifted and my terror waned. It was still really intense and engaging but it fell more typical of other books I've read. Yancey takes us on a few twists and turns but for some reason I saw them coming. I wish I'd been more surprised but there were some pretty obvious clues and foreshadowing. I think the hype started to really get to me midway. I kept looking for that moment of complete awe to hit me upside the head, but it didn't really ever happen. Did I enjoy The 5th Wave? Yes, but it wasn't the most amazing thing I've ever read.
The Characters:
I really liked Cassie (short for Cassiopeia) our heroine. I felt connected to her journey and I could really visualize her (and that teddy bear). Through her point of view I felt, fear, sadness, confusion and just pure terror. I found most of her dialog to be very funny and a nice break from the serious nature of the story. Yancey did a fairly good job of giving his female lead a genuine voice.
Yancey also incorporates other point of views: Sammy, Cassie's little brother, Zombie, the leader of an adolescent army and even a taste from the invader's point of view.
There is a smidgen of romance, though I felt it was one of the weaker aspects of the novel. It felt rushed and almost felt insta-love but I kept trying to see it from the characters point of view (world is crashing around you…not much time to waste).
Final Thoughts:
The 5th Wave was action packed with moments that terrified me and overall was well executed. I think I was a bit let down because of all the hype and the insane expectations I had.
The 5th Wave Book Trailers: