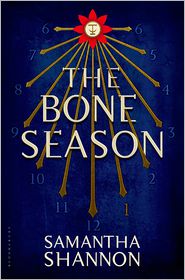 The Bone Season (book 1)
By: Samantha Shannon
Release Date: August 20, 2013
Publisher: Bloomsbury
An electronic copy was given in exchange for a honest review.
My Rating:

Summary (via Goodreads):
It is the year 2059. Several major world cities are under the control of a security force called Scion. Paige Mahoney works in the criminal underworld of Scion London, part of a secret cell known as the Seven Seals. The work she does is unusual: scouting for information by breaking into others' minds. Paige is a dreamwalker, a rare kind of clairvoyant, and in this world, the voyants commit treason simply by breathing.
But when Paige is captured and arrested, she encounters a power more sinister even than Scion. The voyant prison is a separate city—Oxford, erased from the map two centuries ago and now controlled by a powerful, otherworldly race. These creatures, the Rephaim, value the voyants highly—as soldiers in their army.
Paige is assigned to a Rephaite keeper, Warden, who will be in charge of her care and training. He is her master. Her natural enemy. But if she wants to regain her freedom, Paige will have to learn something of his mind and his own mysterious motives.
The Story:
What a complex and complicated world Shannon has created in The Bone Season; a society split between voyants (those with clairvoyant abilities) and the amaurotic (those with no 'unnatural' abilities). Voyants, with a variety of differing skills, are considered to be unnatural and criminal by their more 'natural' peers. A governing body called Scion works at weeding out any voyants and sending them to a prison ruled by an otherworldly race.
With the terminology, slang and different voyant types it can get a bit overwhelming for the reader to grasp the hierarchy of the world and keep track of what is happening. Some readers might find this tedious, but I loved having to really focus on what I was reading and trying to pull it all together so that I could visualize Scion and its inhabitants.
Though some of the descriptions were hazy to me, I still felt emotionally moved by many aspects of the book. I found myself completely wrapped into Paige's story. I attribute the emotional pull to Shannon's writing style which is rich and detailed but also realistic. I never doubted her knowledge of her world or her characters and had every confidence that she would pull everything together in the end.
The Characters:
I really loved following Paige throughout Scion with the Seven Seals and then old Oxford as a captive of the Rephaite. Even though she was thrown into situations that were fantastical and she had a powerful voyant ability Shannon was able to make Paige human and relatable. She was a tough and capable female lead that thought through her decisions and adapted to her surroundings.
My emotional connection didn't stop with Paige. I also cared deeply for the secondary characters and worried about them and their fate. I was really interested in all the members of the Seven Seals and liked that we got to see tidbits of the past featuring them and their interactions with Paige. I felt that they were all well rounded and Shannon paid attention to giving them depth and a unique characteristics. I knew that they each had motivations for their actions and I could understand why they acted the way that they did.
As for the Rephaite race I was intrigued with what they are and where they came from. Shannon left most of these questions unanswered but I'm sure she will delve into them as the series continues. I could feel the intimidation that Paige felt by their otherworldly-ness and size. The Blood Consort, Arcturus Warden, was a wonderful three dimensional character that I immediately felt drawn too. I loved how much I could tell about his character from his body language alone.
Final Thoughts:
The Bone Season was an entrancing read that had me reading through it so fast that once I finished I regretted not savoring it and reading slowly. I am impressed with the creativity and lavish world building that Samantha Shannon was capable of in her debut book.
Look for The Bone Season by Samantha Shannon out in August 2013 by Bloomsbury.
Check out the website for the book.
A pronunciation guide for the novel
You must see Leiana Leatutufu's artblog Artists' Inquisition dedicated to The Bone Season
The Bone Season Book Trailer: