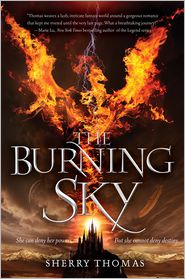 The Burning Sky (The Elemental Trilogy)
By: Sherry Thomas
Release Date: Balzer + Bray
Publisher: September 17th 2013
Pre-Order:
Amazon

Barnes and Noble
An electronic copy was provided in exchange for an honest review.
My Rating:

Summary (via Goodreads):
It all began with a ruined elixir and an accidental bolt of lightning…
Iolanthe Seabourne is the greatest elemental mage of her generation—or so she's being told. The one prophesied for years to be the savior of The Realm. It is her duty and destiny to face and defeat the Bane, the greatest mage tyrant the world has ever known. A suicide task for anyone let alone a sixteen-year-old girl with no training, facing a prophecy that foretells a fiery clash to the death.
Prince Titus of Elberon has sworn to protect Iolanthe at all costs but he's also a powerful mage committed to obliterating the Bane to revenge the death of his family—even if he must sacrifice both Iolanthe and himself to achieve his goal.
But Titus makes the terrifying mistake of falling in love with the girl who should have been only a means to an end. Now, with the servants of the Bane closing in, he must choose between his mission and her life.
The Story:
Sherry Thomas has created a truly unique fantasy novel comprised of elements I absolutely adored: a girl not exactly sure of her own magical capabilities, an epic quest, unexpected love, and an all-boys school. Thomas did a beautiful job pulling all of this together into a cohesive and fast paced book.
The world, called The Realm, was described beautifully and naturally. The reader learned more about The Realm's inner workings and inhabitats slowly as the book progressed. I felt that Thomas created an original world that still was tangible and realistic.
There were so many wonderfully creative and imaginative aspects of this book but my favorite has to be The Crucible, a book of illusion that allows one to travel within its depths into a world based on fairy tales. It operates as does reality but is like a dream; only the mind and imagination journey within. This allowed for our characters to experience a wealth of adventures that wouldn't have made sense otherwise.
The Characters:
Thomas' characters were done exeedingly well. I loved Iolanthe (though for the life of me I have no idea how her name would be pronounced) because of her strength, loyalty and adaptability to adverse situations. She was not a heroine in need of being saved nor did she let fate push her around. I loved her cleverness and the interactions with Titus.
Titus was a character that had a lot of inner turmoil and struggled with his fate and what, if anything he could do to change what was destined. He was instantly likeable though he was in no way a perfect person. The relationship that builds between him and Iolanthe grew slowly and realistically.
I felt incredibly connected to Thomas' cast of characters, primary and secondary alike.
Final Thoughts:
The Burning Sky was the first book I've read by Sherry Thomas but won't be my last. I adored her writing style, character interactions and world buiding.