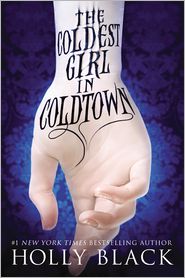 The Coldest Girl in Coldtown
By: Holly Black
Publisher: Little, Brown Books for Young Readers
Release Date: September 3rd 2013
Pre-Order:
Amazon

Barnes and Noble
Thank you Stephanie (Inspiring Insomnia) for letting me borrow your copy!
My Rating:

Summary (via Goodreads):
Tana lives in a world where walled cities called Coldtowns exist. In them, quarantined monsters and humans mingle in a decadently bloody mix of predator and prey. The only problem is, once you pass through Coldtown's gates, you can never leave.
One morning, after a perfectly ordinary party, Tana wakes up surrounded by corpses. The only other survivors of this massacre are her exasperatingly endearing ex-boyfriend, infected and on the edge, and a mysterious boy burdened with a terrible secret. Shaken and determined, Tana enters a race against the clock to save the three of them the only way she knows how: by going straight to the wicked, opulent heart of Coldtown itself.
The Story:
The Coldest Girl in Coldtown started off very strong, the story starts with our main character, Tana, waking up confused after a party went tragically wrong. Black wrote the beginning so detailed and vividly that Tana's fear and unease were tangible. I held my breath as I read; the scene being incredibly realistic and disturbing. For me, after this initial segment the story started to drag and I really struggled immersing myself as thoroughly as in the beginning. I felt that things were progressing too slowly, I wanted more to happen a lot faster.
There is a lot of information that Black had to provide as a backdrop to her story. We learn though flash backs from Tana or her sister's point of view how our world turned to one where vampires are real and living among us. I felt the flashbacks provided the information I needed though I didn't particularly enjoy reading them.
I did feel the way the Coldtowns were described was sadly accurate to how it might be if real. This story was bleak and gritty. I could never decide as I was reading if I was enjoying it or not. A lot of the writing was very eloquent,
But the thing is, I hadn't known myself at all until I went away (page 350 of arc).
But other descriptions felt over done to me…granted, this is an arc so it could be edited down before the final version and I kept that in mind. An example of a really beautiful description going too far in my opinion,
His blood was shady afternoons and metal filings and tears running-thrumming through the fat roots of veins to drip syrup slow, spurting across her mouth, teeth, chin. (pg 316 of arc).
The Characters:
I never fully connected with Tana due to her decisions always seeming very naïve to me. I constantly felt that she walked into some really horrible situations and it honestly frustrated me. Her blind trust of strangers perturbed me. As the story progressed she did seem to learn from her mistakes and not repeat them. Her character grew, toughened up and actually became much more enjoyable to me. I did feel incredibly sorry for her because of her past experiences, and that did give her reason to act in the way that she did on some occasions. I  feel that Black did create a rounded character with depth though, personally, I wasn't impressed with her.
I found the entire cast of secondary human characters very dislikeable, from her family members, ex boyfriend to the people she meets on the road. The only character I could really stand behind was Jameson (and I loved his white crow).
The most intriguing and well constructed character to me was Gavriel, a vampire. I was taken with him immediately  and would have loved to have seen much more of him and his back story. We do get to see a few flashbacks from his life and those were my favorites. I did find that Tana was much more likeable when in his presence and the book picked up and became vastly more interesting when he was involved. Worse problem was he wasn't there nearly enough.
Final Thoughts:
I have read the first two books of Black's Curse Worker series and found them highly enjoyable. This was not the best vampire book I've read mostly due to the slow story progression and lack of likeability of the main character. That being said I will be picking up the sequel if there is one.
The Coldest Girl in Coldtown Book Trailer: