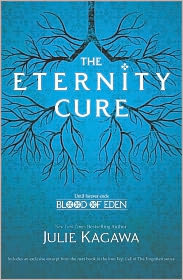 The Eternity Cure (Blood of Eden #2)
By: Julie Kagawa
Release Date: April 30, 2013
Publisher: Harlequin
My Rating:

Spoilers if you've not read The Immortal Rules
Summary (via Goodreads):
Allison Sekemoto has vowed to rescue her creator, Kanin, who is being held hostage and tortured by the psychotic vampire Sarren. The call of blood leads her back to the beginning—New Covington and the Fringe, and a vampire prince who wants her dead yet may become her wary ally.
Even as Allie faces shocking revelations and heartbreak like she's never known, a new strain of the Red Lung virus that decimated humanity is rising to threaten human and vampire alike.
The Story:
The Eternity Cure starts with Allie having left Eden and Zeke to hunt for her sire, Kanin. While Allie travels alone Kagawa takes time to refresh the readers on the events of the first book, having just recently read The Immortal Rules I trudged through this part (which was a very small part). Once Allie meets up with Jackal and they start their journey the story immediately picked up pace and I was eager to see how they would interact with one another. My favorite aspect of the Blood of Eden series is that Kagawa adds zombies (in the form of rabids) into a vampire story. I'm a sucker for botched science creating a strain of virus that turns people into zombies (in fiction only) so this is right up my alley. Since starting this series I've been intrigued with how the scientist created the rabids and how it went so horribly out of control. I thought that the stakes were high in The Immortal Rules but Kagawa has upped ante. Once the story is in full gear I was anxious to see how Allie and crew would get themselves out of the mess they were in. I have to admit certain parts of the story verged on too dark for my tastes.
The Characters:
Kagawa writes wonderful characters, giving them depth and a good dose of internal strife. Allie grows even more throughout The Eternity Cure, I think she gives Zeke too much credit for her humanity. I don't think even being a vampire could strip her of doing what is right (for the most part). I'm impressed that Kagawa was able to make me appreciate and even like (gasp) Jackal. To take a character I so despised and have me rooting for him and laughing at his comments is a feat. We get more of Kanin's past, which I've been eagerly waiting to learn about. And Sarren…what an incredibly evil creature Kagawa has created.
Final Thoughts:
The Eternity Cure was an intense, action packed book that has me crazy eager for book 3.
Read my review of The Immortal Rules
The Eternity Cure Book Trailer: