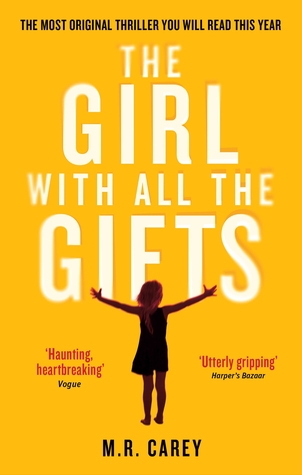 The Girl With All the Gifts
By: M.R. Carey
Release Date: June 19th 2014
Publisher: Orbit
Format: Hardcover
Source: Purchased
This book is classified as adult fiction, and for good reason.
I read TGwAtG with my good friend Pili from In Love with Handmade. It was an absolute pleasure to read along with her. I highly recommend that you read this with a friend. We chose to do 10 chapters a day and it was perfect.
My Rating:

Summary:
Every morning, Melanie waits in her cell to be collected for class.
When they come for her, Sergeant Parks keeps his gun pointing at her while two of his people strap her into the wheelchair. She thinks they don't like her. She jokes that she won't bite. But they don't laugh.
Melanie is a very special girl.

My Thoughts:
As you can tell by the incredibly vague summary you are meant to go into this book not knowing what you're in for. I knew a tiny bit before reading this myself and it didn't negatively impact me but I would agree that if you want to read a thought provoking book that has gruesome descriptions and some amazing horror scenes then you will most likely love this book. Read no further, get yourself to the bookstore and purchase this book.
If you are a little intimidated by what you'll be getting into then I'll be letting you know some details that will obviously be sort of spoiler-ish.
Again–I will be letting you in to some significant plot points below. Proceed at your own risk!
Are you still with me?
The Girl With All the Gifts was an incredibly well done book that walked the line between thought provoking content and the gruesome. I loved Carey's writing style and felt that every point of view he employed was done beautifully. This book was horrifying and the descriptions were vivid and unsettling. Be warned- there was some animal violence so those that have issues with that be warned and on the look out. I do believe this book was worth the read though you will be impacted, disgusted, horrified, stunned and saddened.
I'm sure you're thinking- what in the world was this book about exactly? Well in essence, and stripped to its simplicity- it was a zombie book. I don't read all that much zombie fiction but from what I've read this was the book I've always wanted. It hit all the right notes and had me at the edge of my seat. The pacing was even and somehow, Carey was able to not only drive the story with a huge level of tension but still take the time to build the characters and have me caring for each of them.
Each character stood on their own and felt unique. Melanie's voice (the little girl in the above summary) in particular was absolutely stunning and I can't say a negative thing about it. I loved watching the evolution of each character's growth and reaction to the world they are living in. There were elements in this book that had me really questioning my morals and what my decision would be if I were in the (eeps) very plausible situation the characters are in.
That's the thing about this book, it wasn't some mystery virus that erupts and swarms over the population-there was real thought and science behind this book. I adored all the science bits and felt that they were done perfectly. Never did I feel that they were presented as an info dump, they were seamlessly tied into the story.
I think you can see that I was very impressed with this book. It took me by surprise, caused some nightmares and I'm still thinking about it. I started to rate this book 4.5 stars because I wasn't sure I'd ever want to reread it, but in writing this review I realize that this was a solid 5 star for me. To cause such emotion and thought in a zombie book is saying something.
Now, to the elements that had me disturbed. I mentioned the animal violence- there was only one scene but boy was it vivid and detailed. It would be easy enough to skip. The other aspect was that many elements of this book concern children like Melanie. I get really disturbed when there's a kiddo involved so that was a sore spot for me. It was done well but it made me uncomfortable and distressed at times.
Final Thoughts:
I barely touched my thoughts on The Girl With All the Gifts in this review but I don't want to give away too much about the book. I can't say I necessarily enjoyed my reading experience because it was depressing, gruesome, horrible, thrilling, addicting, thought provoking, etc. It was bleak yet was able to show a slight hint of hope that helped get me through some of the more disturbing scenes.