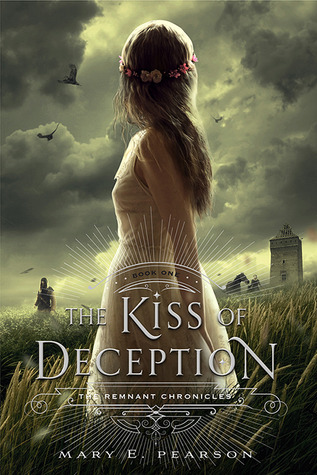 The Kiss of Deception
By: Mary E. Pearson
Release Date: July 15th 2014
Publisher: Henry Holt
Source: ARC
A copy of this book was provided to me by the publisher in exchange for an honest review.
My Rating:

Summary:
In this timeless new trilogy about love and sacrifice, a princess must find her place in a reborn world.
In a society steeped in tradition, Princess Lia's life follows a preordained course. As First Daughter, she is expected to have the revered gift of sight—but she doesn't—and she knows her parents are perpetrating a sham when they arrange her marriage to secure an alliance with a neighboring kingdom—to a prince she has never met.

On the morning of her wedding, Lia flees to a distant village. She settles into a new life, hopeful when two mysterious and handsome strangers arrive—and unaware that one is the jilted prince and the other an assassin sent to kill her. Deception abounds, and Lia finds herself on the brink of unlocking perilous secrets—even as she finds herself falling in love
My Thoughts:
Upon receiving this book I immediately put aside my current reads to dive into this one. Even when first hearing about this I felt a pull towards it and obsessed about reading it. Do you do that? Become completely enraptured with an idea of a book? I'm sure you do, and like me you know this is very dangerous. The expectations begin to raise, especially if you see positive early ratings (like I did with this one). It was with great eagerness and a dash of hesitation that I started. Even from the first line of the book you can see the writing is beautiful and lyrical. My fears of possibly being disappointed started to diminish.
When reading the summary I'm sure there will be those that see the words "prince" and "assassin" and think…oh no, here it is, the dreaded triangle. Rest assured that this is not a true triangle and there is nothing to worry about. Our main character is not wishy-washy nor does she waver in her beliefs. She is a strong willed, head strong character. Pearson was able to create a likeable, if not a tad selfish and naïve, princess that you immediately root for. My heart was on her side from the first chapter.
I really enjoyed the romantic aspects of this book; there was a slow burn but wasn't frustratingly slow. What I loved most was that the romance was very important but less because it was a driving force for the book but because the main character is a young woman and like most young women dreams of falling in love. We journey with her on this and the best part is that we watch her grow and realize that some things might be more important than what you personally want. I loved her self discovery and growth. Pearson has really done an exquisite job in writing this character.
The settings are all vivid and I was easily able to visualize each location. There is quite a bit of travel which often times is very boring to read about but not so in this book. I enjoyed reading the small amount of descriptions and the writing was really beautiful to read.
Even with my very high expectations I was surprised by The Kiss of Deception. It was beautifully done and not only had heart but action and romance. I will be rereading and preordering this one and I can't wait until the next book, as cliché as that is. As often times when a book is very well done the review is near impossible to write.
Final Thoughts:
Nothing I can say would allow you to experience this book in the way Pearson's own writing would. If you like high fantasy, character growth sprinkled in with romance then you'll enjoy this.