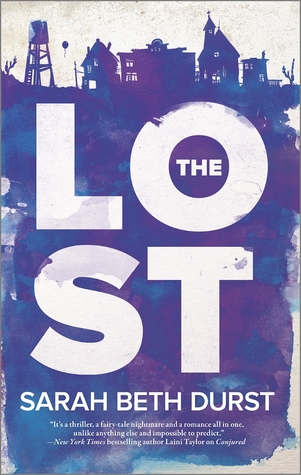 The Lost
By: Sarah Beth Durst
Release Date: May 27th 2014
Publisher: Harlequin
Format: ARC
Source: Received from publisher via Shelf Awareness
My Rating:

Summary:
It was only meant to be a brief detour. But then Lauren finds herself trapped in a town called Lost on the edge of a desert, filled with things abandoned, broken and thrown away. And when she tries to escape, impassable dust storms and something unexplainable lead her back to Lost again and again. The residents she meets there tell her she's going to have to figure out just what she's missing–and what she's running from–before she can leave. So now Lauren's on a new search for a purpose and a destiny. And maybe, just maybe, she'll be found…
The Story:
This was my first novel to read by Durst and I had no clue what to expect. I had hit that request button on Shelf Awareness because I was drawn to the cover. When I started to read I'd heard nothing about this book so had zero preconceived notions or expectations. I was in for quite the surprise because I adored this book and now desperately need to read more of this author's work.
I quickly became completely immersed in the story and the main character, Lauren. From the beginning I was swept into the world and found it to be richly described and highly original. There wasn't much time wasted before we are journeying with Lauren into the town of Lost, full of abandoned things and surrounded by dust and the desert.
The town of Lost was quirky, whimsical and had a very creepy feel to it as well. It brought to mind Neverland, Wonderland and even a bit of the recent novel Nil by Lynne Matson. I could see all of these elements as well as a subtle Labyrinth vibe. If you've been deprived of seeing this 80's classic you sorely need to watch it sooner than later. Labyrinth not only features the prolific and beautiful David Bowie but it also has Jim Henson's creatures. Anyway, there was scene where a goblin resides over a junk city where all the lost toys and forgotten items disappear to…
As I read about Lost and how lost and forgotten items showed up I immediately pictured the junk city from Labyrinth. I loved that I could easily picture the 'junk lady' living in Lost and I kept imagining which area of the city she would be living.
I see figures scurry over the piles. They're kids, scavenging like feral cats in a dump. One girl in a torn and stained velvet dress holds up a find: an apple. page 46 of the ARC
I loved that Durst gave her world a sense of time by making it go from day to night. I thought that gave an otherwise unbelievable setting a realistic touch. The changing and movement of time also gave the book a higher sense of urgency since Lauren was needing to get home to be with her sick mother. I'm really doing a poor job of expressing how I felt about this book. It's such a clever and unique book it really would be best if you find the idea intriguing that you read it for yourself.
The Characters:
I really enjoyed the main character, Lauren. I felt that she had significant growth throughout the story and her trials were easy to relate to. I loved her relationship with Claire, a young girl surviving in Lost. Lauren's motherly tendencies with Claire were heartwarming and done incredibly well. I loved that Claire was realistically a young girl but also far too mature for her age. She was a successful scavenger in Lost and had a strength of character though still exuded vulnerability.
Peter, one of the most interesting inhabitants of Lost, was one of my favorites. He was mysterious, a touch strange and even a little creepy at times. I happened to love his mix of weird and felt that his character could be explored a whole lot more. I really hope we get more of his backstory as 'The Finder' and who he was prior to living in Lost.
Not only were the main cast of characters well executed but all the denizens were such a highlight of the book. They all verged on pathetic yet creepy. I got some zombie vibes at times and I actually feared their mob mentality at times.
Final Thoughts:
I found The Lost to be a captivating, fast paced and touching read. I had no clue I'd get as emotionally invested in these characters when I started this novel. I finished and was in tears. I'm so happy there will be a sequel to quench my curiosity and need to see these characters again.