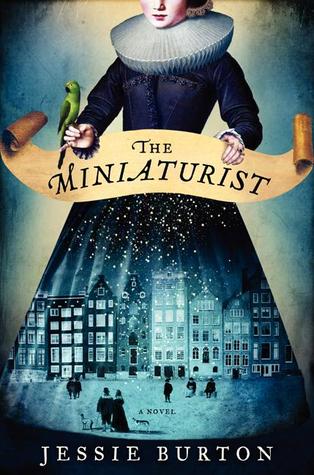 The Miniaturist
By: Jessie Burton
Release Date: August 26th 2014
Publisher: Harper
Format: ARC/FC
Source: Publisher
A copy of this book was provided by the publisher in exchange for an honest review.
This is an adult book so does contain some mature content. Also, be prepared for one instance of animal violence.
My Rating:

Summary:
Set in seventeenth century Amsterdam-a city ruled by glittering wealth and oppressive religion-a masterful debut steeped in atmosphere and shimmering with mystery, in the tradition of Emma Donoghue, Sarah Waters, and Sarah Dunant.
"There is nothing hidden that will not be revealed…"
On a brisk autumn day in 1686, eighteen-year-old Nella Oortman arrives in Amsterdam to begin a new life as the wife of illustrious merchant trader Johannes Brandt. But her new home, while splendorous, is not welcoming. Johannes is kind yet distant, always locked in his study or at his warehouse office-leaving Nella alone with his sister, the sharp-tongued and forbidding Marin.
But Nella's world changes when Johannes presents her with an extraordinary wedding gift: a cabinet-sized replica of their home. To furnish her gift, Nella engages the services of a miniaturist-an elusive and enigmatic artist whose tiny creations mirror their real-life counterparts in eerie and unexpected ways . . .
Johannes' gift helps Nella to pierce the closed world of the Brandt household. But as she uncovers its unusual secrets, she begins to understand-and fear-the escalating dangers that await them all. In this repressively pious society where gold is worshipped second only to God, to be different is a threat to the moral fabric of society, and not even a man as rich as Johannes is safe. Only one person seems to see the fate that awaits them. Is the miniaturist the key to their salvation . . . or the architect of their destruction?
My Thoughts:
What a strange book The Miniaturist was. I had moments of being completely and utterly riveted but on a whole I found the lack of explanation to one of the central plot lines to be disappointing. Disclaimer- I want this review to be spoiler free so I'll have to avoid a good amount of detail.
The book starts off a tad slow as we are introduced to Nella and her arranged marriage to an older, richer man, Johannes. I felt that Burton's descriptions of the time period were beautifully done and I had a very clear image and feel for the people and places. I loved the details and felt her writing was incredibly rich and layered especially once Nella begins to live in the Brandt home. I hadn't expected the unsettling nature of the book (I had only glanced at the summary) so all the creepy tid-bits and secrecy between the characters created a much more interesting read for me than I expected. I could relate and really grasp how Nella must have felt being new to the household and so removed from the inhabitants and all their deceptions.
Burton did a wonderful job in creating unique characters to drive her story. I immediately connected to Nella and enjoyed watching her growth as the novel progressed. The secondary cast was strong as well and I was intrigued with Marin, Johannes' sister. I felt that Johannes was less well rounded though I was fond and empathized with him. Really, most of the male characters felt a bit two dimensional while the female cast was richly developed. Regardless though, I was able to connect to all of the characters to care about their outcome and to be intrigued by the truths they hid.
From the title alone you are aware that the miniature house that Nella was given plays a major role in how the story unfolds. I loved where this part of the story was headed and wanted so much more from this story line. I felt a that it was anti-climatic when we get to the big reveal-I expected a lot more since Burton built everything up so wonderfully. Where this novel excelled was the insight into the oppressive culture of 17th century Amsterdam and the journey these characters take alone and with one another. Burton's writing was beautifully done and was a pleasure to read. I think it would be impossible to read The Miniaturist and not sit back and think deeply about the topics presented.
Final Thoughts:
The Miniaturist succeeded in being a suspenseful and moving read though some of the buildup fell a bit flat for me in the end. Regardless, I was swept away with Burton's characters and the time period she so eloquently wrote about.