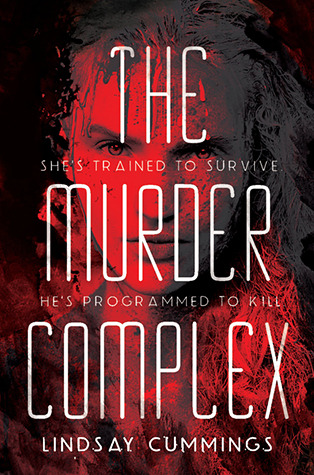 The Murder Complex
By: Lindsay Cummings
Release Date: June 10th 2014
Publisher: Greenwillow Books
Source: ARC
A copy of this book was provided to me by the publisher in exchange for an honest review
My Rating:

Summary:
Meadow Woodson, a fifteen-year-old girl who has been trained by her father to fight, to kill, and to survive in any situation, lives with her family on a houseboat in Florida. The state is controlled by The Murder Complex, an organization that tracks the population with precision.

The plot starts to thicken when Meadow meets Zephyr James, who is—although he doesn't know it—one of the MC's programmed assassins. Is their meeting a coincidence? Destiny? Or part of a terrifying strategy? And will Zephyr keep Meadow from discovering the haunting truth about her family?
My Thoughts:
Overall, I felt that The Murder Complex was a gruesome and interesting read. Cummings writing was to the point and fast paced. Not only that but she had no difficulty in making a hard-core character, Meadow, that wasn't afraid to shed some blood. It's rare to find a main character that has little to no guilt about the things they do to save their family. Meadow had no qualms in leaving a trail of blood if it would save her sister. The relationship between Meadow and Peri reminded me of the relationship between a more famous sister dynamic-Katniss and Prim.
Cummings created an in-depth world with haunting descriptions and a society on the brink of despair. There was no part of me that wanted to take part in this society or future she created. Though the world was developed, I still felt that it was an unrealistic outcome to any society. I can't go into more details without revealing major plot points so I'll leave it at that. Even with it being a bit far fetched, I didn't find it too difficult to throw these thoughts aside and enjoy the story presented.
The action scenes were really the strongest in this book. They were beautifully detailed, described and gory. Some of the characters were a tad lacking and felt a bit one dimensional. Overall this was a more plot and action driven book. Though the relationship between Meadow and Zephyr (still have no clue how to pronounce his name) seemed a bit insta-love I managed to enjoy both of these characters and their alternating point of view. Zephyr's story was the more enthralling for me and I felt very empathetic towards his plight. I felt that of all the characters he was the most well rounded and his past was incredibly sad yet captivating. The only aspect about him that didn't work for me was his instant connection and attraction to Meadow. I wanted a bit more chemistry between the two.
If you aren't a fan of cliff-hangers prepare yourself- The Murder Complex has one. And a fairly evil one at that. I'm not horribly against cliff-hangers to begin with but some of the folks that have an adverse reaction you have been warned.
Final Thoughts:
With Cummings' gruesome imagery and fast paced action, The Murder Complex was a fast read that provided entertainment and descriptions of a world I'd want nothing to do with. I enjoyed this book on the whole and look forward to where the sequel will go.