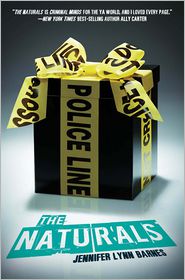 The Naturals
By: Jennifer Lynn Barnes
Publisher: Disney-Hyperion
Release Date: November 5, 2013
Purchase:
Amazon

Barnes and Noble
A copy was given to me by the publisher in exchange for an honest review.
My Rating:

Summary:
Seventeen-year-old Cassie is a natural at reading people. Piecing together the tiniest details, she can tell you who you are and what you want. But it's not a skill that she's ever taken seriously. That is, until the FBI come knocking: they've begun a classified program that uses exceptional teenagers to crack infamous cold cases, and they need Cassie.
What Cassie doesn't realize is that there's more at risk than a few unsolved homicides— especially when she's sent to live with a group of teens whose gifts are as unusual as her own.
Sarcastic, privileged Michael has a knack for reading emotions, which he uses to get inside Cassie's head—and under her skin. Brooding Dean shares Cassie's gift for profiling, but keeps her at arm's length.
Soon, it becomes clear that no one in the Naturals program is what they seem. And when a new killer strikes, danger looms closer than Cassie could ever have imagined. Caught in a lethal game of cat and mouse with a killer, the Naturals are going to have to use all of their gifts just to survive.
The Story:
The Naturals was a wonderful break from the science fiction and dystopians I've been reading lately. I loved the idea behind The Naturals, a group of talented/gifted teens are brought into a special division of the FBI to help profile serial killers. This idea is pretty far fetched…I don't see the FBI utilizing teens in the near future (hey but what do I know?) but I loved suspending disbelief and imagining the possibility.
I went through a phase back in junior high (after watching Silence of the Lambs-entirely too young) where I wanted to know everything possible about serial killers. Less about the gore and crime scenes and more about the why behind it. What type of home life did they have? Was there anything someone could have done to prevent them from becoming a monster? I was fascinated and terrified to read as much as I could. It was a pretty macabre interest that spanned into high school and I even considered studying criminology in college. I knew though that I didn't have the guts or mental capacity to immerse myself into their brain spaces for a career so that idea died out.
Needless to say, I've read many profiling books and accounts of serial killers. I found Barnes approach to profiling and the grooming her main character was given to mesh beautifully with the things I had learned. I loved spending time in Cassie's brain space as she walked through the whys and hows.
We follow the story through dual point of views, one from the main character, Cassie and the other through the eyes of the killer. This alternating pov helped to lead the reader in the direction of figuring out who the killer was along with Cassie. I've seen some readers finding it incredibly easy to pick who the killer is early on but I honestly did not.
I found the book to be fast paced and thoroughly entertaining (minus a couple of small issues that I'll get to in the character section). Since this was the first in the series and Cassie was just being introduced to life as a profiler she was tasked with looking over cold cases which eliminated (for the most part) any details into active cases and crime scenes. Because of this the book is on the light side regarding gore.
As the series progresses I hope we get to see a much deeper look into the phycology behind the killer's thoughts. Of course, this is targeted to a young adult audience so Barnes writes appropriately.
The Characters:
Warning to all of those readers that can't stand a love triangle…there is one in this book. It was done fairly well and didn't annoy me to be honest. Sadly, Barnes does fall into a few clichés with her cast of characters but they still felt genuine to me and I was able to connect with them.
As I'm trying to figure out what to write about the characters I realize I really don't have a whole lot to say about them. The two boys Cassie can't decide between are both likeable and Barnes does a good job giving the reader reasons why she would be attracted to both of them. Cassie was easy for me to understand and see the motivations behind her actions. I enjoyed watching her grow into her potential and following the story through her view point.
I think that the areas the characters were lacking, (such as-more history behind each of them and a fuller understanding of their gifts and how they came to be part of The Naturals) will all be addressed in future books. I felt that this first in the series set the stage nicely. though I do wish less time had been spent on a romantic plot and more on each of the characters back story and motivations.
Final Thoughts:
Overall, I found The Naturals to be a really entertaining and fast paced book. I could have done without the love triangle but it wasn't so bad as to detract from the main story arc. I am excited to see where Barnes takes this series and I hope she dives deeper into the science behind profiling and psychology in her future books.