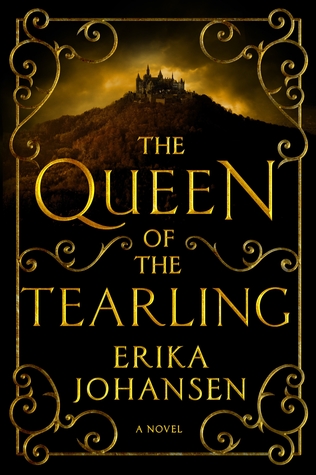 The Queen of the Tearling
By: Erika Johansen
Release Date: July 8th 2014
Publisher: Harper
Source: Publisher via Edelweiss
Format: Electronic Arc
A copy of this book was provided by the publisher in exchange for an honest review.
Note: The Queen of Tearling is not a young adult book. There are some mature topics discussed in this book (rape, torture, sexual scenes, etc).

My Rating:

Summary:
On her nineteenth birthday, Princess Kelsea Raleigh Glynn, raised in exile, sets out on a perilous journey back to the castle of her birth to ascend her rightful throne. Plain and serious, a girl who loves books and learning, Kelsea bears little resemblance to her mother, the vain and frivolous Queen Elyssa. But though she may be inexperienced and sheltered, Kelsea is not defenseless: Around her neck hangs the Tearling sapphire, a jewel of immense magical power; and accompanying her is the Queen's Guard, a cadre of brave knights led by the enigmatic and dedicated Lazarus. Kelsea will need them all to survive a cabal of enemies who will use every weapon—from crimson-caped assassins to the darkest blood magic—to prevent her from wearing the crown.
Despite her royal blood, Kelsea feels like nothing so much as an insecure girl, a child called upon to lead a people and a kingdom about which she knows almost nothing. But what she discovers in the capital will change everything, confronting her with horrors she never imagined. An act of singular daring will throw Kelsea's kingdom into tumult, unleashing the vengeance of the tyrannical ruler of neighboring Mortmesne: the Red Queen, a sorceress possessed of the darkest magic. Now Kelsea will begin to discover whom among the servants, aristocracy, and her own guard she can trust.
But the quest to save her kingdom and meet her destiny has only just begun—a wondrous journey of self-discovery and a trial by fire that will make her a legend…if she can survive.
The Story:
See that summary up above? It's pretty lengthy and dense- much like the book itself. Overall I'm so increbily mixed about Tearling I really have no idea if I like it or not. I will say that the first chapter was 10% of the book! It felt like it took forever to read and I wasn't sure I'd last beyond it and consequently put the book aside for more than a month.
I kept seeing positive reviews so decided to try it again and found it to be much more interesting. The pacing was faster and the chapters a bit shorter. But as I continued to read there were areas that dragged so badly for me and I wanted nothing more than to put the book away and leave it there. I stuck with it and I'm glad that I did (since I did enjoy some parts rather well) though upon finishing I felt a rush of relief that I'd actually finished.
I liked the world that Johansen created though it felt a bit disjointed at times. I was able to visualize it for the most part though and I liked the surprise about when this book was set. You'll have to read it for yourself or in a different review to find out because…spoilers. Though, even after reading the book you won't have a full picture of what or why things happened the way they did. There was a lot about this world that was not revealed in this first book.
Beyond the length of this book, a good amount of other things didn't work for me. Really, it's hard to put my finger on exactly but none of it felt overly original beyond some of the world crafting (and even that wasn't looked into enough for my taste). I felt like I'd seen much of it before though I couldn't pick out specifically where.
There were a lot of moments that focused on rape and children's deaths. I'm never a fan of either being utilized in my reading material though at times it is done in a way that moves the story forward. I never felt that the scenes in this book really did much other than present the gruesomeness of the world and people. I could have done without it.
The Characters:
I had a lot of problems with the characters though generally they were okay. Our main character, Kelsea, was naïve a lot of the time and to me focused on the wrong crises going on in her kingdom. One example- there was an impending invasion that she was warned about which would cause many of her people to be brutally murdered. But instead of focusing on that she spent a good amount of her thinking time pondering how she was going to bring literature to the people. I love books (obviously) but if your people are dead they won't be enjoying a good book. Her character did have some growth that I'm sure will continue through the course of the series. I really never loved or hated her but felt generally meh though I did want her to prevail because I did care about some of the secondary characters.
Mace was one of the most interesting because he seemed to be the most well rounded. I was interested in learning more about his past and how he became the person he was. Though I enjoyed him he was often incredibly bad at his duty and I wondered how exactly he was considered the best. The other members of the guard sort of meshed together and really didn't stick with me.
Now, my favorite character was the mysterious maybe or maybe not romantic interest. He was barely in the story but I found the sections that he was in read much faster for me.  I'm curious to learn more about who he was exactly. As for the romantic bit…I could see why Kelsea felt the way she did though it was sort of insta-love. But, since she hasn't had much experience with men it was understandable to me. Plus, there wasn't a lot of attention drawn to it. I am curious what will happen in regards to this relationship in later books.
There were sections where the author decided to show the point of view from random characters, like Thomas the reagent and semi- villain. Also, the Red Queen's perspective was shown a couple of times. Though her sections did give me some insight into who she was there was never any depth in her character and she wasn't explored very thoroughly. These point of views were tedious at times only because I never felt that they added that much to the story.
Final Thoughts:
This was such a mixed read for me. I have no clue how I felt because I really liked certain sections and know that I could grow to love some of the characters. On the other hand, nothing felt all that new to me as I read and the pacing felt so disjointed and uneven. The fact that when I finished I felt that I deserved accolades speaks volumes to me on how this book moved for me. Would I recommend this one? I have no clue! Some of my blogger friends loved it and others hated it. Will I read the next book in the series? I really don't know-I think I'll be relying on my canaries to sound off before I decide.