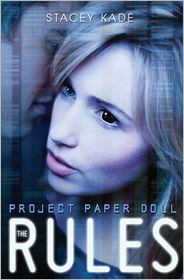 The Rules (Project Paper Doll #1)
By: Stacey Kade
Release Date: April 23, 2013
Publisher: Disney Book Group
My Rating:

The Summary (via Goodreads):
Ariane Tucker has the name–and life–of a dead girl. The original Ariane was fully human; this one's not. There are Rules that come along with her being Ariane. They're simple, but essential for her safety and her father's: Never trust anyone. Remember they are always searching. Don't get involved. Keep your head down. Don't fall in love. She has followed these Rules faithfully for ten years.The trouble, though, with rules is that you're always tempted to break one: for the right reasons, due to unavoidable circumstances, because it feels as if there's no other choice. Enter Zane Bradshaw.
The Story:
The Rules is so much more than it lets on in the first half of the book. It seems like a simple story of an alien hybrid trying to stay under the radar in high school; all sort of been done before. There is a lot of focus on the social politics and hierarchy, mean girls out to punish each other and a possible crush on a boy. But it is so much more as you get past the first half. Deceptions, lies, love, heart ache and survival. I didn't hate the beginning of the book but I wasn't blown away either. All felt familiar and a little on the slow side, but once I hit the midway point I couldn't put it down (cliché-yes, truth-yes). There was a nice twist, though I saw it coming, it didn't take away from the ache in my gut reading it all play out. Overall I was incredibly impressed reading it all come together and realizing that the slow build-up was all worth while. I think that the sequel will be even more gripping than this latest installment. very excited to read it though I dread the wait.
The Characters:
Kade did an impressive job giving a realistic and likeable personality to an alien hybrid with Ariane. She had just enough teen girl to make her realistic yet she was always a tad off in her interactions and thoughts. She really shined in her interactions with Zane, I loved their dialog and looked forward to every time they spoke to one another. Zane is a well rounded guy and his point of view was masculine yet sensitive. I was not bothered in the slightest by the dual point of views in the novel. The antagonists, Dr. Jacobs and Rachel Jacobs, were both delightfully evil; hiding their malicious actions between sweet smiles.
Final Thoughts:
A bit slow at the onset but builds up to an intriguing, action paced first of a series.