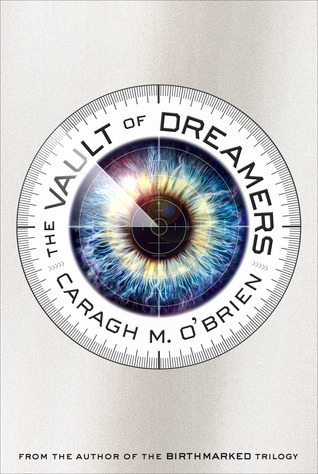 The Vault of Dreamers
By: Caragh M. O'Brien
Release Date: September 16th 2014
Publisher: Roaring Brook Press
Format: Print ARC
Source: Publisher
A copy of this book was provided for review by the publisher.
My Rating:

Summary:
The Forge School is the most prestigious arts school in the country. The secret to its success: every moment of the students' lives is televised as part of the insanely popular Forge Show, and the students' schedule includes twelve hours of induced sleep meant to enhance creativity. But when first year student Rosie Sinclair skips her sleeping pill, she discovers there is something off about Forge. In fact, she suspects that there are sinister things going on deep below the reaches of the cameras in the school. What's worse is, she starts to notice that the edges of her consciousness do not feel quite right. And soon, she unearths the ghastly secret that the Forge School is hiding—and what it truly means to dream there.
The Story:
I really enjoyed the idea behind The Vault of Dreamers because the concept of a reality show based on a school for creative kids seemed like it could go all sorts of fun places especially with the sleep angle. In reality, this book didn't quite hit the mark I had anticipated. I wanted a bit more from the big reveal and found the pacing to be uneven and slow at times. I think a good section of the book could have been cut and wouldn't have really detracted from the storyline.
This was a fairly l0ng book and to be honest not a lot happened. The mystery unfolded rather slowly which would have been fine if it had been more impactful. I didn't have that feeling of intrigue or shock. There was never a moment that I really feared for the characters or felt at the edge of my seat.
I'm not entirely sure what this novel was trying to be because it didn't feel all that science fiction or much like a thriller. Anytime dreams are mentioned my expectations go through the roof and I expect something that is going to really mess with my perception of reality. Add in a boarding school for creative types being aired on TV? I wanted oh so much from this book. That might have been the novel's biggest problem-living up to it's own summary hype.
For me this novel meandered a good amount and focused on slowly revealing what was really going on with the Forge school. We see things through the main character's eyes and at the speed she was finding out the information. This typically works for me, but in this novel it felt pretty long winded. I wanted things to move faster or for the stakes to be much higher.
The Characters:
Possibly the story's pacing and emotional impact would have been better if I'd have connected on a deeper level with the characters. They weren't poorly constructed but I never cared as much as I would have liked. Why? I couldn't really say. There was nothing that made me dislike them and I felt that the author did try to give them depth.
The romance did interest me in certain parts of the book and I did enjoy some of the character interactions and dialog. I felt that Rosie's relationships at the Forge school were probably the strongest aspect to this book for me and did pull me through the slower sections and kept me reading.
Rosie was given a back story including a rough childhood, abusive stepfather and weak mother. Her motivating factor and hopes were placed with giving her little sister a better life. Though we witnessed some of these scenes with Rosie I never felt that her family was very well developed individually. They all felt very flat and I never felt the emotional pull the author was going for in the sibling relationship.
Final Thoughts:
Sadly, The Vault of Dreamers fell flat for me because of the slow pacing, anticlimactic reveal and lack of emotional connection to the characters. The reading experience was salvaged by some well done dialog and a love story that had potential.