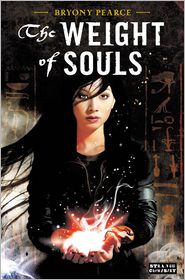 The Weight of Souls
By: Bryony Pearce
Release Date: August 6th 2013
Publisher: Strange Chemistry
Pre-Order:
Amazon

Barnes and Noble
An electronic copy was given in exchange for an honest review.
My Rating:

Summary (via Goodreads):
Sixteen year old Taylor Oh is cursed: if she is touched by the ghost of a murder victim then they pass a mark beneath her skin. She has three weeks to find their murderer and pass the mark to them – letting justice take place and sending them into the Darkness. And if she doesn't make it in time? The Darkness will come for her…
She spends her life trying to avoid ghosts, make it through school where she's bullied by popular Justin and his cronies, keep her one remaining friend, and persuade her father that this is real and that she's not going crazy.
But then Justin is murdered and everything gets a whole lot worse. Justin doesn't know who killed him, so there's no obvious person for Taylor to go after. The clues she has lead her to the V Club, a vicious secret society at her school where no one is allowed to leave… and where Justin was dared to do the stunt which led to his death.
Can she find out who was responsible for his murder before the Darkness comes for her? Can she put aside her hatred for her former bully to truly help him?
And what happens if she starts to fall for him?
The Story:
I went into this book with little idea of the plot since I requested it with just a brief scan of the summary. For the most part, I really enjoyed The Weight of Souls. I found the pacing to be a great speed and was immediately drawn into the world that Pearce created and why Taylor was seeing ghosts . I was really surprised by how deep the story was and how it encompassed Egyptian myth. It was evident that the author researched her material and was passionate about telling this story. I will say that the way Pearce chose to present Taylor's family history, through a relative's journal, felt clunky to me. I never felt that the transition was smooth though I enjoyed the information provided.
SPOILER BELOW
My only flaw with this book was the romance. I could never get behind the relationship because I couldn't see the Taylor and Justin more than friends. I enjoyed their dialog and friendship but any emotions going beyond friendship felt 'off' to me. I think it's because I wasn't sold that Taylor could fall for someone who had treated her the way that Justin had prior to him needing her help.
END SPOILER
The Characters:
I really enjoyed Taylor's character. She was strong willed, capable and bold main character that made the most of her tough life. Her everyday existence was heartbreaking in the amount of stress and sadness she experienced. The bullying at school was horribly cruel and made me sad for her though it made her best friend stand out in her strength and solidarity.
Taylor's father hasn't had an easy time either and I was really impressed with the way Pearce wrote him. He was incredibly real and though he had faults you never questioned his love of his daughter. It was refreshing to read about a strong father figure that was present in his daughter's life though he made obvious mistakes.
Final Thoughts:
The Weight of Souls was a surprisingly unique and engrossing read though it did have a couple minor flaws. Some of the techniques Pearce utilized for providing background information to the reader felt clunky and the romance was hard for me to believe but neither of these detracted from my overall enjoyment of this book.