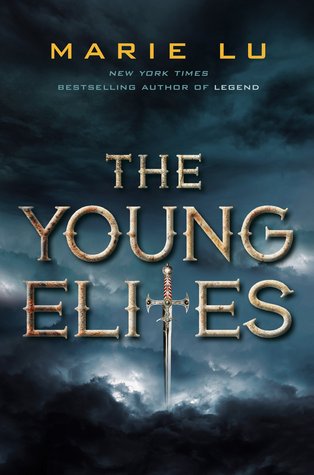 The Young Elites
By: Marie Lu
Release Date: October 7th 2014
Publisher: Putnam Books for Young Readers
Format: Print ARC
Source: Won from The Midnight Garden
My Rating:

Summary:
I am tired of being used, hurt, and cast aside.

Adelina Amouteru is a survivor of the blood fever. A decade ago, the deadly illness swept through her nation. Most of the infected perished, while many of the children who survived were left with strange markings. Adelina's black hair turned silver, her lashes went pale, and now she has only a jagged scar where her left eye once was. Her cruel father believes she is a malfetto, an abomination, ruining their family's good name and standing in the way of their fortune. But some of the fever's survivors are rumored to possess more than just scars—they are believed to have mysterious and powerful gifts, and though their identities remain secret, they have come to be called the Young Elites.
Teren Santoro works for the king. As Leader of the Inquisition Axis, it is his job to seek out the Young Elites, to destroy them before they destroy the nation. He believes the Young Elites to be dangerous and vengeful, but it's Teren who may possess the darkest secret of all.
Enzo Valenciano is a member of the Dagger Society. This secret sect of Young Elites seeks out others like them before the Inquisition Axis can. But when the Daggers find Adelina, they discover someone with powers like they've never seen.
Adelina wants to believe Enzo is on her side, and that Teren is the true enemy. But the lives of these three will collide in unexpected ways, as each fights a very different and personal battle. But of one thing they are all certain: Adelina has abilities that shouldn't belong in this world. A vengeful blackness in her heart. And a desire to destroy all who dare to cross her.
It is my turn to use. My turn to hurt.
The Story:
This book was awash in darkness and hurt. Go into this one expecting a story full of action and characters that reside fully in the grey. There are no good or bad characters- everyone was squarely in the middle. I have only read the first book in the Legend series (though I own them all, thank you Stephanie!) and yet I was ecstatic about The Young Elites because of that amazing summary. I was beyond thrilled when I won a copy in a giveaway. This book did not disappoint.
Lu's writing was incredibly easy to get immersed in and I was eager to learn more about the world she created. A horrible fever swept through the land killing many and marking the survivors with physical abnormalities and varying skills. I thought that the idea of an illness scarring its victims as well as 'gifting' them with powers was a wonderful concept. I loved that it was as much a curse as a gift and the details Lu gave into the powers and where they derived from. We get just enough details to give the powers credibility and interest but I can't help but be excited to see even more about them in the next books.
The book set a moderate pace with areas of action as well as flash backs to the main character's past. I thought these were perfectly done and gave me insight into her character and the world. I really enjoyed the scenes focusing on Adelina's training and her honing her skill of illusion. They were written clearly and were very easy to picture how her magic worked. That says a lot because it would have been very easy for her illusion ability to become very confusing in a less skilled author's hands.
The Characters:
To me, the characters were the strongest element in The Young Elites. I found Lu's main character, Adelina, to be so damaged though relatable. She had lived through so much at an early age which gave her a darkness but also a strength that really made reading about her a pleasure. I loved that she struggled with her inner darkness. I felt that this gave her the potential to grow and develop. I loved her progression through this first book but I'm most excited to see what happens next.
Enzo was swoon-worthy with a side of tension. I wasn't a hundred percent sure of his motivations in the beginning. I thought that Lu's representation of an elite group of teens with abnormalities was right on and intensely compelling. The fact that she made their 'gifts' derive from a life threatening illness was timely as well as unique. Because each character was affected differently it created an intriguing secondary cast.
Final Thoughts:
I think Marie Lu has created a surprisingly unique storyline and characters based on a somewhat typical trope (teens with remarkable powers) I felt that this novel was incredibly strong and was delightfully dark. The way Lu ended this novel gives me utmost confidence that this series will be amazing.