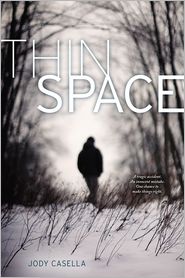 Thin Space
By: Jody Casella
Release Date: September 10th 2013
Publisher: Beyond Words/Simon Pulse
Pre-Order:
Amazon

Barnes and Noble
An electronic copy was provided in exchange for an honest review.
My Rating:

Summary (via Goodreads):
Ever since the car accident that killed his twin brother, Marshall Windsor has been consumed with guilt and crippled by secrets of that fateful night. He has only one chance to make amends, to right his wrongs and set things right. He must find a Thin Space—a mythical point where the barrier between this world and the next is thin enough for a person to step through to the other side.
But, when a new girl moves into the house next door, the same house Marsh is sure holds a thin space, she may be the key—or the unraveling of all his secrets.
As they get closer to finding a thin space—and closer to each other—Marsh must decide once and for all how far he's willing to go to right the wrongs of the living…and the dead.
The Story:
Thin Space was an incredible surprise for me- I loved it start to finish and was completely immersed in Marshall's story. I cannot adequately express how wonderful Casella's story was; providing not only twists and turns but an overall emotional journey through loss.
I had never heard of a 'thin space' but I was immediately compelled to look the term up and really got my mind going.  The idea behind a point where the barrier between here and the other side was thin enough to allow a person to travel in between was such a beautiful and tempting concept for anyone that has lost someone they loved. Casella takes this intriguing Celtic lore and weaves it through a fast paced, gripping story.
Thin Space was the type of book that had me thinking and trying to guess what the outcome would be. Though I was correct in my assumption concerning one of the twists I was still riveted and wasn't sure I was correct until it was verified.
The Characters:
Marsh was torn apart on the inside because of the loss of his twin brother. Casella was able to express the confusion, loss and sadness so beautifully yet I was completely aware of the pain he was going through. The cover of this novel represents the overall feel very effectively. Marsh is lost in the fog of his new reality, a reality without the one person that had always been there for and with him. Though the topic was heartbreaking I was never depressed while reading. The glimmer of hope and the mystery of the story kept me fully invested and eager to read.
I absolutely loved Maddie's character with her southern drawl, big heart and inner sadness. She was a perfect foil for Marsh and felt that each brought out the best in one another. I found their relationship relatable, realistic and sweet.
Final Thoughts:
I think Thin Space has been my biggest surprise of 2013 so far. I fell in love with the characters, the story and the twists Casella created. I will honestly read anything Jody Casella writes from here on out.
Thin Space will be available September 10th 2013 by Beyond Words/Simon Pulse