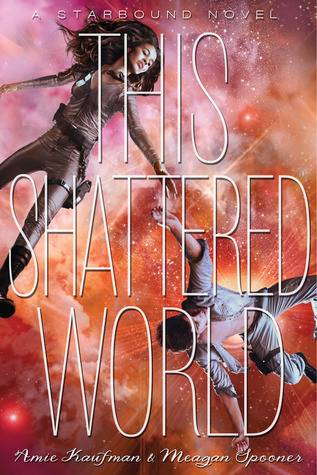 This Shattered World
By: Amie Kaufman & Meagan Spooner
Release Date: December 23rd 2014
Publisher: Disney-Hyperion
Format: Print ARC
Source: Gift from Jon (Bookish Antics) and won a copy from The Midnight Garden
My Rating:

Summary:
Jubilee Chase and Flynn Cormac should never have met.
Lee is captain of the forces sent to Avon to crush the terraformed planet's rebellious colonists, but she has her own reasons for hating the insurgents.
Rebellion is in Flynn's blood. Terraforming corporations make their fortune by recruiting colonists to make the inhospitable planets livable, with the promise of a better life for their children. But they never fulfilled their promise on Avon, and decades later, Flynn is leading the rebellion.
Desperate for any advantage in a bloody and unrelentingly war, Flynn does the only thing that makes sense when he and Lee cross paths: he returns to base with her as prisoner. But as his fellow rebels prepare to execute this tough-talking girl with nerves of steel, Flynn makes another choice that will change him forever. He and Lee escape the rebel base together, caught between two sides of a senseless war.
My Thoughts:
I thought I'd read the first chapter to get a feel for the book and ended up not stopping until I was 3/4ths done with the book. I was completely mesmerized with the story and loved that it seamlessly tied into These Broken Stars. It was incredible to see Tarver and Lilac again (even for such a short amount of time). I loved how this world/galaxy feels so fleshed out and I can't wait to see where they go from here. This story feels that it could continue into more than just one more book (fingers crossed).
The characters are all well developed and motivated by many factors. I loved that no one was perfect and each character struggled with their own internal battles. I felt that the relationships were well done though I never got as invested in Lee and Flynn as I was with Tarver and Lilac. I can't pin-point exactly why I didn't connect as deep but it could be their personalities. It wasn't due to a lack of character development though.
Both the main characters were beautifully fleshed out and unique in their attributes. I loved the growth each character experienced especially Lee's. She started the story closed off and motivated almost entirely by her duty. It was intriguing to watch her wrestle with her feelings especially for Flynn.
Spooner and Kaufman know how to create a male lead. Like Tarver, Flynn was incredibly likeable and easy to root for throughout the entire story. Though the two lead's relationship was present it didn't feel as dominant as in the first book. There were so many large issues on the planet to resolve the story had a broader approach and looked into the bigger picture of political and business corruption.
Action scenes were vivid and easy to imagine as well as the atmosphere of the planet. I  loved how creepy and realistic the descriptions were and how I could completely imagine a young planet being like that. The settler's plight was understandable as well as their anger when the terraforming plans were not at the level promised. I can't help but always imagine Doctor Who when I read about a planet being terraformed so many of my personal images are from the series.
Final Thoughts:
Kaufman and Spooner are experts at crafting beautiful characters and a world that seems incredibly fleshed out and real. I can't wait to read more from them and though I liked This Shattered World just the tiniest bit less than These Broken Stars it has still become a favorite.