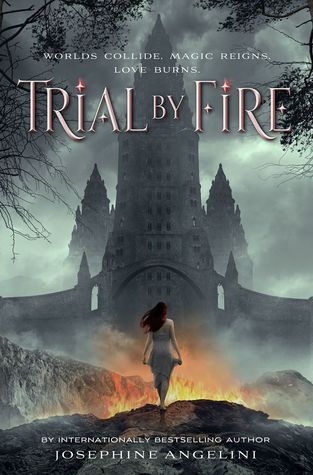 Trial by Fire
By: Josephine Angelini
Release Date: September 2nd 2014
Publisher: Feiwel & Friends
Format: Print ARC
Source: Publisher
A copy of this book was provided by the publisher in exchange for an honest review.
My Rating:

Summary:
Love burns. Worlds collide. Magic reigns.
This world is trying to kill Lily Proctor. Her life-threatening allergies keep her from enjoying many of the experiences that other teenagers take for granted…which is why she is determined to enjoy her first (and perhaps only) high-school party. But Lily's life never goes according to plan, and after a humiliating incident in front of half her graduating class Lily wishes she could just disappear.

Suddenly Lily is in a different Salem – one overrun with horrifying creatures and ruled by powerful women called Crucibles. Strongest and cruellest of all the Crucibles is Lillian . . . Lily's identical other self in this alternate universe. This new version of her world is terrifyingly sensual, and Lily is soon overwhelmed by new experiences.
Lily realizes that what makes her weak at home is exactly what makes her extraordinary in New Salem. It also puts her life in danger. Thrown into a world she doesn't understand, Lily is torn between responsibilities she can't hope to shoulder alone, and a love she never expected.
But how can Lily be the saviour of this world when she is literally her own worst enemy?
My Thoughts:
I was so excited about this book. I love the cover and the idea behind witches and multiple dimensions- so awesome, count me in. Well, sadly, this book didn't really work for me. My discontent all started with the beginning of the book. The writing felt very weak to me and I couldn't get past all the telling. There was so much that it really detracted from my enjoyment.
We start following Lily while she's at high school and excited about the prospect of taking her best friend status with the hottest guy at school (of course) to the next level. Not surprising, her guy friend who was the best friend a gal could have was less stellar in romance. We find out about Lily's health and family issues. Instead of feeling sorry for her I sadly didn't care all that much. I found her to be rather naïve and I was unable to connect at all. If I hadn't been so excited for this book I might have stopped there.
I was so relieved that when the story got going things improved, a lot. Either I got used to the writing style or it improved but I started to connect with the story and found myself very curious about the world that Angelini had created. I found the magic to be incredibly creative and wanted to learn much more about how it all worked. But, once past the middle of the book I started to lose interest and found myself wanting to skim over large sections. I don't know if it was the writing or maybe because the book was written in third person but I wasn't able to get into Lily's mind or emotions.
Angelini created willstones which everyone in her world wore to utilize their magic and connect, if willing, to a witch. The idea started off strong but as it progressed I found it veered on corny at times. Witches connect to these willstones by touch and some of the descriptions of the person's enjoyment had me feeling awkward. I imagine Angelini's writing was descriptive because I was easily able to imagine facial expressions and felt like I was peeking in on something private between the characters and sadly I didn't want to be.
Final Thoughts:
Trial by Fire was one of my most anticipated books for 2014 and sadly I wasn't able to enjoy it nearly as much as I had hoped. This was my first book by Angelini so maybe it's just a case of me not really jiving with the writing style. I thought that Angelini had some really creative elements in her witch lore but I also felt that the characters were lacking and the information was presented in info dumps.