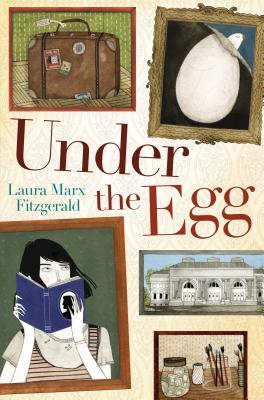 Under the Egg
By: Laura Marx Fitzgerald
Release Date: March 18th 2014
Publisher: Dial
Format: Finished Copy
Source: Publisher (unsolicited)
This book was provided by the publisher in exchange for an honest review.
My Rating:

Summary:
When Theodora Tenpenny spills a bottle of rubbing alcohol on her late grandfather's painting, she discovers what seems to be an old Renaissance masterpiece underneath. That's great news for Theo, who's struggling to hang onto her family's two-hundred-year-old townhouse and support her unstable mother on her grandfather's legacy of $463. There's just one problem: Theo's grandfather was a security guard at the Metropolitan Museum of Art, and she worries the painting may be stolen.

With the help of some unusual new friends, Theo's search for answers takes her all around Manhattan, and introduces her to a side of the city—and her grandfather—that she never knew. To solve the mystery, she'll have to abandon her hard-won self-reliance and build a community, one serendipitous friendship at a time.
My Thoughts:
I must admit, upon seeing the cover and title I wasn't overly eager to read this middle grade book. I wasn't sure what it would be like and the title seemed a bit odd. But, soon after starting the book I found I was intrigued and this ended up being a wonderfully done book that I'd recommend to any fan of art.
This novel begins with our main character's grandfather passing away and leaving nothing but a few hundred dollars to Theo to support her mentally ill mother. After this sad beginning we get into the mystery aspect of the book and that's where I became entranced. I loved watching Theo search for the answers to the mystery painting along with her new, and only, friend.
The relationship between the girls was sweet and felt realistic even though one was poor and the other was the daughter of two celebrities. They felt like the perfect match and their interaction brought a lot to the story. Fitzgerald was able to present two intelligent yet young girls and represent them delightfully.
The writing was one of this novel's strongest points as well as the historical context of the artwork. I took various art history courses in college (art history was my minor) and so I appreciated all the details about the renaissance artists. If you aren't motivated to Google some of the artwork mentioned while reading Under the Egg I'd be surprised.
Final Thoughts:
Under the Egg came as a complete surprise for me. Not only did I love the characters and Theo's personal journey I became completely immersed in the mystery of the painting. The historical details and analysis of classic artwork was handled lightly but also educational. Just enough detail to give the reader an understanding and curiosity about the art but light enough it wasn't distracting from the story.