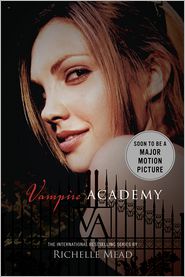 Vampire Academy
By: Richelle Mead
Release Date: August 16th 2007
Publisher: Razorbill
Purchase:
Amazon

Barnes and Noble
My Rating:


Note: my overall enjoyment while reading was probably closer to 2 stars but knowing how original and ground breaking this book was at the time of publishing I boosted my overall rating.
I read this with Jon from Scott Reads It, Octavia from Read, Sleep, Repeat and Regina from Mel, Erin +Regina Read-A-lot. Only Jon and I were able to finish the book. You can check out his review here.
Summary (via Goodreads):
St. Vladimir's Academy isn't just any boarding school—it's a hidden place where vampires are educated in the ways of magic and half-human teens train to protect them. Rose Hathaway is a Dhampir, a bodyguard for her best friend Lissa, a Moroi Vampire Princess. They've been on the run, but now they're being dragged back to St. Vladimir's—the very place where they're most in danger…
Rose and Lissa become enmeshed in forbidden romance, the Academy's ruthless social scene, and unspeakable nighttime rituals. But they must be careful lest the Strigoi—the world's fiercest and most dangerous vampires—make Lissa one of them forever
The Story:
I went into reading Vampire Academy with very high hopes and expectations. With the movie right around the corner and all the buzz along with the high reviews I was really excited to dive into this series and fall in love with the characters. I have to admit, I wasn't blown away with anything about this book. I think a lot of it could be due to hearing so much hype. I wonder if I had read it when it first came out if I would feel differently.
I felt the pacing was slow and I wanted a lot more action and a lot less time spent on the social game Lissa needed to play. I didn't feel the stakes were high enough nor was I really concerned with the outcome of the story.
I do think that Mead created a very original concept with her vampires and different variations. I think since this was written in 2007 and other books have adopted similar ideas it's easy to forget that when this was written it was very original and paved the way for other books in the young adult genre.
The Characters:
I have heard a lot about the relationships between Lissa and Rose and Rose and Dimitri. I was excited to get to know these characters and learn about their stories. I found Rose to be a strong voice and found her humor and internal dialog amusing for the most part. I admired her sincerity and single minded duty to protect Lissa at all costs.
I couldn't ever really get behind Lissa's character for reasons I can't name. Nothing about her really stood out to me though she is such a pivotal character. I didn't dislike her by any means but never felt much either way.
The first descriptions of Dimitri had me eager to get to know him and see the chemistry between him and Rose. As I continued reading my excitement fizzled. I barely learned anything about him, the training scenes weren't nearly detailed enough or frequent for my liking. I think there is an interesting start but it's hard not to be a bit disappointed with how little he was in the story. I do need to keep in mind that I'm basing my view on a character who fans have been fostering love for over the series and I've only seen in one book.
Final Thoughts:
When keeping in mind that Mead created this world and its characters in 2007 it is easy to see how this book has accrued such a fan base. It was incredibly unique, original and inspirational for books written after. Unfortunately, since I'm reading it so far from when it was created it loses the newness and excitement it provided for earlier readers. I'm not sure if I will continue on the series or not.
Extras:
You might be interested to read my review of Gameboard of the Gods, book 1 of Richelle Mead's latest series.