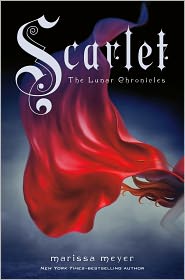 Scarlet The Lunar Chronicles book 2
By: Marissa Meyer
Release Date: February 5, 2012
Publisher: Feiwel & Friends
My Rating:

Spoilers if you have not read the first book. You can read my review of Cinder here.
Summary (via jacket copy):
The Fates of Cinder and Scarlet collide as a Lunar threat spreads across the Earth…
Cinder, the cyborg mechanic, returns in the second thrilling installment of the bestselling Lunar Chronicles. She's trying to break out of prison–even though if she succeeds, she'll be the Commonwealth's most wanted fugitive.
Halfway around the world, Scarlet Benout's grandmother is missing. When Scarlet encounters Wolf, a street fighter who may have information about her grandmother's whereabouts, she is loath to trust this stranger, but is inexplicably drawn to him, and he to her. As Scarlet and Wolf unravel one mystery, they encounter another when they meet Cinder. Now, all of them must stay one step ahead of the vicious Lunar Queen Levana, who will do anything for the handsome Prince Kai to become her husband, her king, her prisoner.
The Story:
Scarlet is a hugely fun read that kept me riveted. Both story-lines, Cinder and Scarlet's, are equally enthralling and I was drawn into and invested in both. Action propels the majority of the book, which Marissa Meyer writes beautifully. One of my favorite aspects of the Lunar Chronicles is Meyer's ability to take sci-fi adventure and meld it  seamlessly with a classic fairy tale, Little Red Riding Hood in this installment. Scarlet picks up where Cinder left off but with the addition of some wonderful new characters all which help to progress the main story arc. From the beginning, the book sets a comfortable pace and slowly builds as the pages turn.
The Characters:
I found myself loving all the new cast as much as the characters from Cinder. Scarlet is easy to empathize with and I was happy to see events from her perspective. She's a loyal woman driven to do whatever it takes to save her grandmother, no matter the obstacle. Wolf is mysterious and I had a gut instinct about him early on and enjoyed seeing if I was correct in where his allegiance was. Thorne is great as comic relief and I really enjoyed Cinder and his banter.  Kai was absent through the majority of the book, I was surprised that I wasn't more disappointed, just a testament to how absorbed I was in the other characters.
Final Thoughts:
The Lunar Chronicles is one of my favorite series right now, with the mix of sci-fi and fairy tale I can't get enough. Book three, Cress will come out in 2014. Two novellas are available: Glitches (Lunar Chronicles 0.5) and The Queen's Army (Lunar Chronicles 1.5)
Scarlet book trailer:

Buy this book:
Amazon

Barnes and Noble