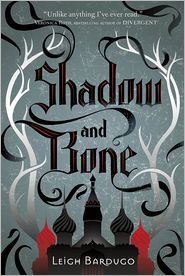 Shadow and Bone
By: Leigh Bardugo
Release Date: June 5, 2012
Publisher: Henry and Holt
My Rating:

note: I read this when it was first released but I've reread it in anticipation of book 2, Siege and Storm
Summary (via jacket copy):
Alina Starkov doesn't expect much from life. Orphaned by the Border Wars, the one thing she could rely on was her best friend and fellow refugee, Mal. And lately not even that seems certain. Drafted into the army of their war-torn homeland, they're sent on  a dangerous mission into the Fold, a swath of unnatural darkness crawling with monsters who feast on human flesh.
When their convoy is attacked, all seems lost until Alina reveals a dormant power that not even she knew existed. Ripped from everything she knows, she is whisked away to the royal court to be trained as a member of the Grisha, the magical elite led by the mysterious Darkling. He believes she is the answer the people have been waiting for: the one person with the power to destroy the Fold.
Swept up ina a world of luxury and illusion, envied as the Darkling's favorite, Alina struggles to fit into her new life without Mal by her side. But as the threat to the kingdom mounts, Alina uncovers a secret that sets her on a collision course with the most powerful forces in the kingdom. Now only her past can save her…and only she can save the future.
The Story:
This is going to be one of those reviews where I say over and over how much I love this and that…because well, I love this book! I loved it the first time I read it and I'm enjoying it even more upon rereading. The story is beautifully written and flows at a wonderful moderate pace. Bardugo creates an exquisite world deep with description. I adore the idea of the Grisha and even better the strongest amongst their ranks, the Darkling. The story is well crafted and beautifully executed. See like I noted, just a bunch of love for this book.
The Characters:
I immediately was drawn to our heroine, Alina. Our first introduction to her is in the orphanage where she was raised, she was described as:
She's an ugly little thing. No child should look like that. Pale and sour, like a glass of milk that's turned
She has a strong spirit and I loved seeing Bardugo's world, Ravka, through Alina's point of view. Her relationship with Mal is written very realistically and I could feel the tension between them. Mal is wonderful though at times he might appear to be shallow, with his good looks and ease at gaining women's eye. I never once questioned his true character and loyalties.  And the Darkling, he is done oh so well. I couldn't stop myself for being undeniably entranced with him yet I felt nervous about what he was up to.
Final Thoughts:
Shadow and Bone encompasses everything I love in a fantasy book: a unique world but with aspects of our own, characters I love, a heroine I want to succeed and a love interest worthy of her affection. If you are a fantasy fan read this book.
Shadow and Bone book trailer:
Check out Leigh Bardugo's site for information on the World of Grisha
Check out Hebel Design for jewelry inspired by the book
Book 2, Siege and Storm is due out this June
Buy this book:
Amazon

Barnes and Noble