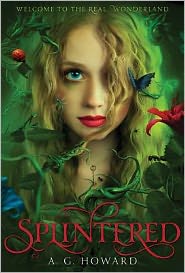 Splintered
By: A.G. Howard
Release Date: January 1, 2013
Publisher: Amulet Books
My rating:

Summary (via book flap):
Alyssa Gardner hears the thoughts of plants and animals. She hides her delulsions for now, but she knows her fate: she will end up like her mother, in an institution. Madness has run in her family ever since her great-great-great-grandmother Alice Liddell told Lewis Carroll her strange dreams, inspiring his classic Alice's Adventures in Wonderland.
But perhaps she's not mad. And perhaps Carroll's stories aren't as whimsical as they first seem.
To break the curse of insanity, Alyssa must go down the rabbit hole and right the wrongs of Wonderland, a place full of strange beings with dark agendas. Alyssa brings her real-world-crush- the protective Jeb–with her, but once her journey begins, she's torn between his solidity and the enchanting, dangerous magic of Morpheus, her guide to Wonderland.
But no one in Wonderland is who they seem to be–not even Alyssa herself…
The Story:
You can tell A.G. Howard did her research on Lewis Carroll's Alice's Adventures in Wonderland (also see she loves the classic). Her portrayal of Wonderland is gruesome yet captivating. She pulls enough from the original to create a stunning Wonderland that has some of the feel of the original (but darker). The best part of Wonderland are its characters and puzzles, Howard is able to keep those aspects while adding such macabre twists it veers on disturbing. Its twisted like a Tim Burton movie yet has some of the 80's feel of Labyrinth (1986 movie starring Davie Bowie…if you've not seen it you must).Its a strong story with lots to keep you interested in where its going. Another great part of the story to me was I wasn't sure where Howard was going to take us or how she was going to get there.
The Characters:
Character interactions are done so well they feel real at times, and almost feels like you are eavesdropping on a private conversation. Dialog flows seamlessly for the most part and each character has an 'unique' voice. Unfortunately, sometimes Alyssa's best friend (and love interest), Jeb, doesn't seem like a friend I'd want. I wish he would stand up for her more and not meddle in some of her life decisions. But I won't reveal more as not to spoil the story. Regardless, he does seem real with his flaws. You get a sense he acts first and thinks later. I think Morpheus is my favorite character just because I constantly want to know more about him and look forward to the segments he's in. I would love to read an entire story based on him in Wonderland.  As for our main character, Alyssa I immediately was pulled to her through her odd life view to her even odder hobby,
I've been collecting bugs since I was ten; it's the only way I can stop their whispers. Sticking a pin through the gut of an insect shuts it up pretty quick.
I have an interest towards insects myself…I don't pin them but I do photograph them. A little show and tell moment: here's one of the pictures I took of a blue dasher dragonfly (feels very Splintered to me) in my backyard. Since I spent hours up close and personal with our bug friends I could really imagine how it would feel to hear them speak. This was one of my favorite aspects of the book and Alyssa.
Final Thoughts:
Splintered gave me what I wanted, a re-working or addition to the original Alice's Adventures in Wonderland.  Howard mastered creating a unique, fun yet gruesome Wonderland. The story moves at a great pace and the characters are mostly like-able (Jeb you could have been better). Sometimes the dialog was a tad repetitive (certain words were repeated often enough I noticed). The story was left open enough for a sequel and I would love to read some additional stories with Morpheus center-stage.
Will there be any additonal books?
Want to know more about how A.G. Howard came up with her Wonderland? Check out her blog…lots of info there.
If you live in Texas don't miss meeting A.G. Howard at one of her signings! Click here for dates and locations.
Splintered book trailer:

To buy this book:
Amazon

Barnes and Noble