The Summer Road Trip Giveaway Hop is hosted by The Starry-Eyed Revue and will run from August 5th-12th. I will be giving away Angelfall by Susan Ee. I absolutely ADORE this book and if you've not read it you must. This one has been out for a long time so I know a lot of people have read it–don't despair–if you would rather you can choose a book of your choice up to $15. I chose Angelfall as my Road Trip Giveaway selection because a good amount of this book is based on the journey that the main character Penryn takes to find her little sister.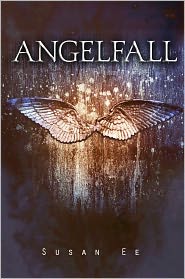 Summary (via Goodreads):
It's been six weeks since angels of the apocalypse descended to demolish the modern world. Street gangs rule the day while fear and superstition rule the night. When warrior angels fly away with a helpless little girl, her seventeen-year-old sister Penryn will do anything to get her back.
Anything, including making a deal with an enemy angel.
Raffe is a warrior who lies broken and wingless on the street. After eons of fighting his own battles, he finds himself being rescued from a desperate situation by a half-starved teenage girl.
Traveling through a dark and twisted Northern California, they have only each other to rely on for survival. Together, they journey toward the angels' stronghold in San Francisco where she'll risk everything to rescue her sister and he'll put himself at the mercy of his greatest enemies for the chance to be made whole again.
Rules:
This giveaway is international if Book Depository ships to your location. I will email the winner and they will have 48 hrs to respond or I will choose another winner.
Thank you to all that entered. You can enter to win In the After by Demitria Lunetta HERE