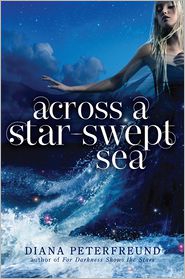 Across a Star Swept Sea
By: Diana Peterfreund
Release Date: October 15th 2013
Publisher: Balzer + Bray
Pre-Order:
Amazon

Barnes and Noble
My Rating:

An electronic copy was provided from the publisher in exchange for an honest review.
Summary (via Goodreads):
Centuries after wars nearly destroyed civilization, the two islands of New Pacifica stand alone, a terraformed paradise where even the Reduction—the devastating brain disorder that sparked the wars—is a distant memory. Yet on the isle of Galatea, an uprising against the ruling aristocrats has turned deadly. The revolutionaries' weapon is a drug that damages their enemies' brains, and the only hope is rescue by a mysterious spy known as the Wild Poppy.
On the neighboring island of Albion, no one suspects that the Wild Poppy is actually famously frivolous aristocrat Persis Blake. The teenager uses her shallow, socialite trappings to hide her true purpose: her gossipy flutternotes are encrypted plans, her pampered sea mink is genetically engineered for spying, and her well-publicized new romance with handsome Galatean medic Justen Helo… is her most dangerous mission ever.
Though Persis is falling for Justen, she can't risk showing him her true self, especially once she learns he's hiding far more than simply his disenchantment with his country's revolution and his undeniable attraction to the silly socialite he's pretending to love. His darkest secret could plunge both islands into a new dark age, and Persis realizes that when it comes to Justen Helo, she's not only risking her heart, she's risking the world she's sworn to protect.
The Story:
This was my second book from Diana Peterfreund, the first being For Darkness Shows the Stars, which was beautifully done. I was beyond excited to learn there would be a companion novel and jumped at the chance to read it. I will admit that Across a Star Swept Sea started off slowly for me. I had trouble getting back into the world and understanding all the intricacies. I think if I had reread For Darkness I might have had an easier time getting into this novel.
The writing is beautifully done though a tad on the slow side. The descriptions were vivid and I could easily picture the characters, clothes and setting. The majority of this story is based on secrecacy between the two main characters. As a reader, it gets frustrating knowing what the other doesn't. Peterfreund did it very well but I still felt annoyed at times and wanted them to be honest with one another though their motivations with keeping silent were well spelled out and believable.
As the book neared the end I became much more wrapped up in the story and enjoyed how all the threads wove together. The sluggish start was more than made up for as the story arcs merged and the main obstacle overcome.
Across a Star Swept Sea is loosely based on The Scarlet Pimpernel, which I read and enjoyed in high school. Sadly, I couldn't recall enough about the book to make any comparisons so can not say what inspirations Peterfreund found in the original book.
The Characters:
I loved the idea behind Persis being brilliant yet disguising her true motives and identity by playing up the ditzy socialite. I thought she was an amusing character and very strong willed. I enjoyed learning about her inner turmoil and inspirations. Peterfreund did a nice juxtaposition between her as a socialite and as the Wild Poppy, the most infamous spy.
Justen had a very interesting family history, being the grandson of Persistence Helo the woman responsible for creating the cure for the Reduced. I thought his goals at seeing through his grandmother's dreams were admirable and enjoyed watching him struggle with his own discoveries.  I was happy to see a love interest with such depth and strength.
Although I felt like Justen and Persis were well developed individuals, I had trouble really feeling the chemistry between them. I can't put my finger on why I wasn't able to really get invested in their relationship but I struggled.
Final Thoughts:
Though Across a Star Swept Sea had descriptive writing and interesting characters something was lacking for me. I had trouble really immersing myself in the story and feeling the characters chemistry with one another.