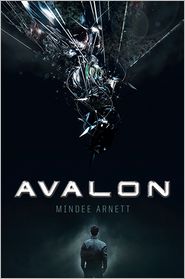 Avalon
By: Mindee Arnett
Release Date: January 21st 2014
Publisher: Balzer & Bray
Purchase:
Amazon

Barnes and Noble
An electronic copy was provided by the publisher in exchange for an honest review.
I read Avalon with my reading group, Scott Reads It, Bibliopunkk and On Starships and Dragonwings
My Rating:

Summary:
A ragtag group of teenage mercenaries who crew the spaceship Avalon stumble upon a conspiracy that could threaten the entire galaxy in this fascinating and fast-paced sci-fi adventure from author Mindee Arnett.
Of the various star systems that make up the Confederation, most lie thousands of light-years from First Earth-and out here, no one is free. The agencies that govern the Confederation are as corrupt as the crime bosses who patrol it, and power is held by anyone with enough greed and ruthlessness to claim it. That power is derived from one thing: metatech, the devices that allow people to travel great distances faster than the speed of light.
Jeth Seagrave and his crew of teenage mercenaries have survived in this world by stealing unsecured metatech, and they're damn good at it. Jeth doesn't care about the politics or the law; all he cares about is earning enough money to buy back his parents' ship, Avalon, from his crime-boss employer and getting himself and his sister, Lizzie, the heck out of Dodge. But when Jeth finds himself in possession of information that both the crime bosses and the government are willing to kill for, he is going to have to ask himself how far he'll go to get the freedom he's wanted for so long.
The Story:
Avalon was one of my most anticipated reads and when I was given the advanced reader copy I was beyond thrilled. I'd heard many comparisons to Firefly which off the bat made me very interested. I've read Arnett's paranormal The Nightmare Affair and thought it was a fast and entertaining read adding to my curiosity of how she would fare with science fiction. Honestly, I think this anticipation and high hopes for what I wanted Avalon to be might have marred what it truly was.
My experience reading this book started off wonderfully. I was immediately drawn into the story and looked forward to being swept off my feet.  The pacing was fast and I thought the science fiction aspects were done well and it did mirror the aura of Firefly, especially with the main story arc. Sadly, as I continued to read I was unable to really connect with the characters and never fully grasped the world they lived in.
There was a beautiful addition of some creepy details and I had chills reading. Unfortunately, this aspect puttered out in the last half of the book and things became more predictable. I quickly saw the direction things were headed and felt a small amount of disappointment that not only did the mysterious elements not amount to as much as I liked I was correct in the outcome of why they were occurring.
The Characters:
I found the cast to be likeable enough but I really missed that there wasn't more internal dialog amongst the crew and bolder personalities. Everyone sort of just melded together in my head (especially weeks after reading). I felt that not one character stood out to me. The main character, Jeth, was supposed to take that spot but I never successfully connected with him. I found Arnett's male voice to be well done and believable but overall he just lacked something to make me love his character. Sadly, I'm not exactly sure how to pin point it.
The romance in Avalon felt very secondary and really it felt more a means to an end than a focus of the story. For me, the two characters connection stopped after attraction and I never felt any real emotions between them. I personally prefer my science fiction with less romance than more so this didn't really affect my reading experience.
Final Thoughts:
I enjoyed reading Avalon though I was disappointed in the book overall. I felt that the beginning half was excellent and because of that and my very (possibly unrealistic) expectations I set this book up to fail in some ways. I think that if I had read it without my own hopes of what it would be I could have seen what the author intended and enjoy it more. I will continue with this series and hope that the world is developed more as well as my connection with the characters.