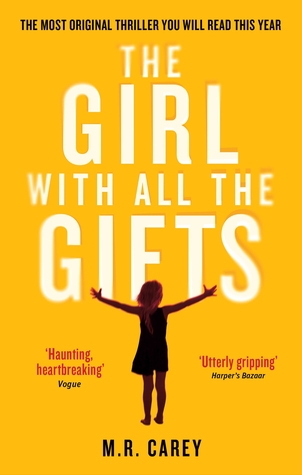 The Girl With All the Gifts
By: M.R. Carey
Release Date: June 19th 2014
Publisher: Orbit
Format: Hardcover
Source: Purchased
This book is classified as adult fiction, and for good reason.
I read TGwAtG with my good friend Pili from In Love with Handmade. It was an absolute pleasure to read along with her. I highly recommend that you read this with a friend. We chose to do 10 chapters a day and it was perfect.
My Rating:

Summary:
Every morning, Melanie waits in her cell to be collected for class.
When they come for her, Sergeant Parks keeps his gun pointing at her while two of his people strap her into the wheelchair. She thinks they don't like her. She jokes that she won't bite. But they don't laugh.
Melanie is a very special girl.
…