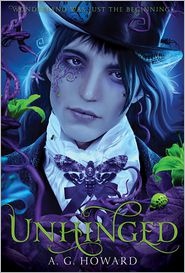 Unhinged (Splintered #2)
By: A.G. Howard
Publisher: Amulet
Release Date: January 7th 2014
Purchase:
Amazon

Barnes and Noble
An arc was sent by the publisher in exchange for an honest review
My Rating:

This is the sequel to Splintered. There are spoilers from the first book.
Summary:
Alyssa Gardner has been down the rabbit hole and faced the bandersnatch. She saved the life of Jeb, the guy she loves, and escaped the machinations of the disturbingly seductive Morpheus and the vindictive Queen Red. Now all she has to do is graduate high school and make it through prom so she can attend the prestigious art school in London she's always dreamed of.
That would be easier without her mother, freshly released from an asylum, acting overly protective and suspicious. And it would be much simpler if the mysterious Morpheus didn't show up for school one day to tempt her with another dangerous quest in the dark, challenging Wonderland—where she (partly) belongs.
As prom and graduation creep closer, Alyssa juggles Morpheus's unsettling presence in her real world with trying to tell Jeb the truth about a past he's forgotten. Glimpses of Wonderland start to bleed through her art and into her world in very disturbing ways, and Morpheus warns that Queen Red won't be far behind.
If Alyssa stays in the human realm, she could endanger Jeb, her parents, and everyone she loves. But if she steps through the rabbit hole again, she'll face a deadly battle that could cost more than just her head.
My Thoughts:
When I finished Splintered I was desperate for more of Howard's Wonderland and its creepy residents.  The moment the sequel was announced I knew I'd be reading it as soon as possible. When I laid eyes on the Unhinged cover and saw that Morpheus was prominent I was ecstatic since he is my favorite character in the first book. Thankfully, Unhinged did not disappoint even though less time was spent in Wonderland and the story focused more on Alyssa's human side.
Unhinged starts a year after Alyssa has made her decision to live in the human world and with Jeb. Howard did a wonderful job showing Wonderland and Morpheus dripping into her day to day life even though she has chosen to reside in the human realm. The imagery is even creepier than in the first book (a toy clown anyone?) and to me, the descriptions and general aura resonated darker than Splintered.
Howard kept up a fast paced adventure that delved deeper into family history and secrets as well as showing a girl who's heart is torn between two men and realities. I'm not usually much for a love triangle, but in this case it didn't bother me due to the separation of worlds. I know that when the cover was released many Jeb fans feared that he would not star prominently in the book. I didn't feel that he was absent and I was actually surprised with how large a part he played.  In Splintered I had some problems with his character and veered on strongly disliking him.  Again in Unhinged he wasn't a character I felt drawn to and questioned his loyalties and priorities.
Personally, I will always be more intrigued and drawn to Morpheus due to his darkness and depth of mystery. I felt that his character was further developed and I enjoyed every scene he made an appearance in. I think it is a testament to Howard's writing ability that she has created a character that manipulates and twists other's motives and actions yet retains immense likeability. The fact that he teeters between good and evil but I still feel sympathetic to him is impressive.
One of the aspects I enjoyed most about Unhinged was the focus Howard took in Alyssa's mother and father. Her mother has been released from the asylum and is regaining her life and relationships. We get to learn more about how and why she was put in the asylum to begin with. I found this entire story arc to be fascinating.
Final Thoughts:
Once again Howard has taken me on an adventure through dark and light and I loved every moment of it. I love her interpretation of Wonderland and those that inhabit it and seeing them venture into the human realm was a treat. The cliff hanger she left me on was painful but a pain I gladly take though the wait for the next installment will be painful.
Extras:
LEGO Morpheus
Interview with A.G. Howard
Interview with the cover artist Nathalia Suellen
Review of Splintered