Teaser Tuesdays is a weekly meme hosted by MizB at Should Be Reading. Grab your current read
Open to a random page
Share two (2) "teaser" sentences from somewhere on that page
BE CAREFUL NOT TO INCLUDE SPOILERS! (make sure that what you share doesn't give too much away! You don't want to ruin the book for others!)
Share the title & author, too, so that other TT participants can add the book to their TBR Lists if they like your teasers!
This week I'm reading Not a Drop to Drink by Mindy McGinnis with two of my favorite bloggers: Krys from Bibliopunkk and Jon from Scott Reads It. We just started our read-along so I'm not far enough to have any real opinions as of yet but I am enjoying the writing and am very curious as to where the story will go.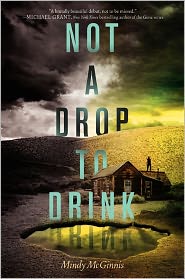 The dark, sacred confines of the barn calmed her, and she breathed it in deeply; must and moisture, spilled oil and the ghost of gasoline. Above it all, she could smell the water, straight through the plastic tanks her nose found the scent of survival.
Summary (via Goodreads):
Regret was for people with nothing to defend, people who had no water.
Lynn knows every threat to her pond: drought, a snowless winter, coyotes, and, most importantly, people looking for a drink. She makes sure anyone who comes near the pond leaves thirsty, or doesn't leave at all.
Confident in her own abilities, Lynn has no use for the world beyond the nearby fields and forest. Having a life means dedicating it to survival, and the constant work of gathering wood and water. Having a pond requires the fortitude to protect it, something Mother taught her well during their quiet hours on the rooftop, rifles in hand.
But wisps of smoke on the horizon mean one thing: strangers. The mysterious footprints by the pond, nighttime threats, and gunshots make it all too clear Lynn has exactly what they want, and they won't stop until they get it….