Teaser Tuesdays is a weekly meme hosted by MizB at Should Be Reading. Grab your current read
Open to a random page
Share two (2) "teaser" sentences from somewhere on that page
BE CAREFUL NOT TO INCLUDE SPOILERS! (make sure that what you share doesn't give too much away! You don't want to ruin the book for others!)
Share the title & author, too, so that other TT participants can add the book to their TBR Lists if they like your teasers!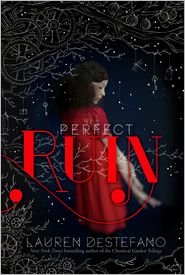 This week I'm reading Perfect Ruin by Lauren DeStefano. I'm almost half-way and so far it's an elegant story and I'm loving the writing style and descriptions.
The first kiss lingers. It travels away from the lips once it's over, and it breaks apart and settles in strange places. The stomach. Fingertips. Knees. It follows us along the cobbles and onto the train. page 143 of print arc
Summary (via Goodreads):
On Internment, the floating island in the clouds where 16-year-old Morgan Stockhour lives, getting too close to the edge can lead to madness. Even though Morgan's older brother, Lex, was a Jumper, Morgan vows never to end up like him. She tries her best not to mind that her life is orderly and boring, and if she ever wonders about the ground, and why it is forbidden, she takes solace in best friend Pen and her betrothed, Basil.
Then a murder, the first in a generation, rocks the city. With whispers swirling and fear on the wind, Morgan can no longer stop herself from investigating, especially when she meets Judas. He is the boy being blamed for the murder — betrothed to the victim — but Morgan is convinced of his innocence. Secrets lay at the heart of Internment, but nothing can prepare Morgan for what she will find — or who she will lose.
Perfect Ruin by Lauren DeStefano will be available October 1st 2013 by Simon & Schuster Books for Young Readers