Teaser Tuesdays is a weekly meme hosted by MizB at Should Be Reading.
Grab your current read
• Open to a random page
• Share two (2) "teaser" sentences from somewhere on that page
• BE CAREFUL NOT TO INCLUDE SPOILERS! (make sure that what you share doesn't give too much away! You don't want to ruin the book for others!)
• Share the title & author, too, so that other TT participants can add the book to their TBR Lists if they like your teasers!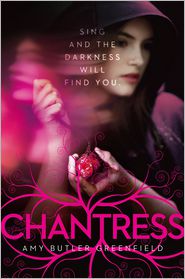 This week I'm reading Chantress by Amy Butler Greenfield. I'm 30% into the book and so far it's interesting but very slow paced.
His confidence was like sunshine on a cold day, and I could not help but be warmed by it. And yet knowing he had such faith in me was daunting, too, for I had no idea how to fulfill it.
Summary (via Goodreads):
Lucy's Chantress magic will make her the most powerful—and most hunted—girl in England.
"Sing, and the darkness will find you." This warning has haunted fifteen-year-old Lucy ever since she was eight and shipwrecked on a lonely island. Lucy's guardian, Norrie, has lots of rules, but the most important is that Lucy must never sing. Not ever. Now it is 1667, Lucy is fifteen, and on All Hallows' Eve, Lucy hears a tantalizing melody on the wind. She can't help but sing—and she is swept into darkness.
When she awakes in England, Lucy hears powerful men discussing Chantresses—women who can sing magic into the world. They are hunting her, but she escapes and finds sanctuary with the Invisible College, an organization plotting to overthrow the nefarious Lord Protector. The only person powerful enough to bring about his downfall is a Chantress. And Lucy is the last one in England.
Lucy struggles to master the song-spells and harness her power, but the Lord Protector is moving quickly. And her feelings for Nat, an Invisible College apprentice and scientist who deeply distrusts her magic, only add to her confusion…
Time is running out, and the fate of England hangs in the balance in this entrancing novel that is atmospheric and lyrical, dangerous and romantic.