Teaser Tuesdays is a weekly meme hosted by MizB at Should Be Reading. Grab your current read
Open to a random page
Share two (2) "teaser" sentences from somewhere on that page
BE CAREFUL NOT TO INCLUDE SPOILERS! (make sure that what you share doesn't give too much away! You don't want to ruin the book for others!)
Share the title & author, too, so that other TT participants can add the book to their TBR Lists if they like your teasers!
This week I'm reading Horde by Ann Aguirre. I have just started this one but I am so excited to dive into it. I loved the prior two books in the series, Enclave and Outpost.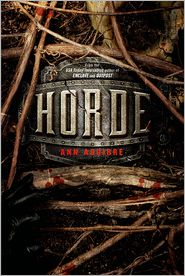 Still twitching, they hit the grassy ground, smearing green with red, though in the dark it was impossible to tell. Blood spurted from the stumps, then the beast lunged at me with its other talons. pg. 30
Summary (via Goodreads):
The epic conclusion to the USA Today bestselling trilogy.
The horde is coming.
Salvation is surrounded, monsters at the gates, and this time, they're not going away. When Deuce, Fade, Stalker and Tegan set out, the odds are against them. But the odds have been stacked against Deuce from the moment she was born. She might not be a Huntress anymore, but she doesn't run. With her knives in hand and her companions at her side, she will not falter, whether fighting for her life or Fade's love.
Ahead, the battle of a lifetime awaits. Freaks are everywhere, attacking settlements, setting up scouts, perimeters, and patrols. There hasn't been a war like this in centuries, and humans have forgotten how to stand and fight. Unless Deuce can lead them.
This time, however, more than the fate of a single enclave or outpost hangs in the balance. This time, Deuce carries the banner for the survival of all humanity.